Open-Face Sunflower Harissa Grilled-Chicken Sandwiches
Early Summer 2020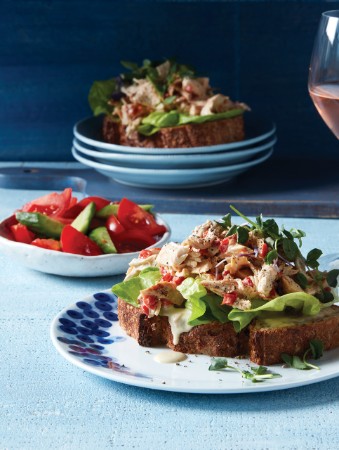 Open-Face Sunflower Harissa Grilled-Chicken Sandwiches
Early Summer 2020
BY: Jennifer MacKenzie
Prep ahead for those nights when you don't have much time for dinner but need to eat a decent meal. You can grill the chicken ahead and/or make the salad ahead. When you have a little more time, you can cook and enjoy it right away, plus it's easy to double if you want leftovers as well (dinner and lunch in one? Yes, please!). Sliced cucumbers and tomatoes on the side complete the meal.
2 tbsp (30 mL) sunflower seed or other seed or nut butter, divided
3 tbsp (45 mL) white wine vinegar
3 tbsp (45 mL) sunflower or other mild oil 2 tsp (10 mL) Dijon mustard
Salt and freshly ground pepper
1 tsp (5 mL) harissa paste
1 lb (455 g) boneless skinless chicken breasts, 2 medium breasts
2 tbsp (30 mL) mayonnaise or plain Greek yogurt
4 thick slices bakery-style sunflower or multigrain bread
¼ cup (60 mL) finely chopped roasted (and drained) or fresh sweet red peppers
Lettuce leaves
Sunflower seedlings or other microgreens
1 Whisk together 1 tbsp (15 mL) of the seed butter, the vinegar, oil, mustard, ½ tsp (2 mL) salt and ¼ tsp (1 mL) pepper in a medium bowl Pour 3 tbsp (45 mL) into a shallow dish. Set bowl aside (cover if making the chicken ahead).
2 Whisk harissa paste into marinade in shallow Add chicken and turn to coat. Let stand for 15 minutes or cover and refrigerate for up to 1 day.
3 Preheat barbecue grill to medium.
4 Remove chicken from marinade and place on Spoon a thick layer of marinade over chicken, then discard any excess. Close lid and grill, turning once, for about 7 minutes per side or until a meat thermometer inserted in the thickest part of chicken reads 165°F (74°C) or until no longer pink inside. Transfer to cutting board and let cool until just warm. (Chicken can be grilled ahead, covered and refrigerated for up to 2 days.)
5 Tear or chop chicken into chunks. Whisk remaining seed butter and mayonnaise into reserved vinegar mixture to make dressing. Spread a thin layer of dressing on one side of each bread slice. Stir chicken and red peppers into remaining dressing and stir to coat. Season with salt and pepper. (You can make the chicken salad a day ahead, just mix it all together, cover and refrigerate, then spoon out some of the dressing to spread on the bread before assembly.)
6 Arrange lettuce on dressing side of bread, spoon chicken salad on top and garnish with seedlings.
SHARE