No-Filler Shrimp Patty
Early Summer 2019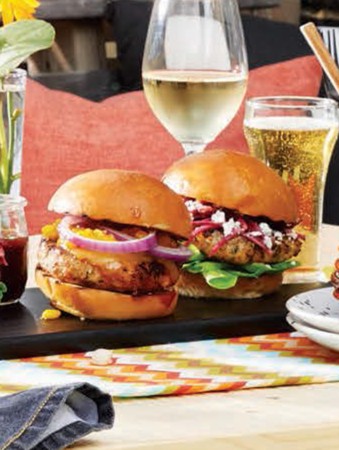 No-Filler Shrimp Patty
Early Summer 2019
BY: Christopher St. Onge
Often shrimp patties have some sort of filler to hold them together. Here, some of the shrimp are finely ground and the rest coarsely chopped, meaning the shrimp holds the patty together. All the better to taste the sweet white shrimp at its heart. A Gingery Radish Slaw (recipe follows) adds juiciness and zip. Feta cheese is particularly good overtop.
½ cup (125 mL), 1 stick, salted butter
1 tbsp (15 mL) honey
½ tsp (2 mL) smoked paprika
¼ tsp (1 mL) ground chipotle or cayenne
2 bags (400 g in total) frozen raw peeled
Pacific white shrimp, thawed, divided
2 cloves garlic
1 red cayenne or finger chili, finely chopped
½ cup (125 mL) finely chopped cilantro leaves and stems
1 Melt butter in a small saucepan over low heat; whisk in honey, paprika and chipotle. Set aside.

2 Combine roughly one-third of the shrimp and the garlic in a food processor; work into a fine paste. Scrape into a large bowl.

3 Using the food processor again, chop remaining shrimp into pea-sized pieces; add to bowl with shrimp paste, chili and cilantro. Using your hands, mix to thoroughly combine; form into 4 patties, ¾ inch (2 cm) thick (patties may be made up to a day in advance, covered tightly with cling wrap and refrigerated).

4 Grill over high heat for 3 minutes a side, basting with the butter mixture in the final minute of cooking; serve topped with Gingery Radish Slaw, burger fixings and remaining butter mixture to brush over toasted buns.
GINGERY RADISH SLAW
Colourful watermelon radishes are ideal for this, but daikon radishes make a great substitute—both types are large and easy to julienne. The slaw is addictive and would be great over grilled fish too. It's best used within 4 hours of assembling.

8 oz (225 g) peeled watermelon or daikon radish, julienned or coarsely grated
1 tsp (5 mL) salt
1 tbsp (15 mL) sugar
1 tsp (5 mL) ginger juice (see TIP below)
2 tbsp (30 mL) apple cider vinegar
1 Place julienned radish in a colander set in the sink; sprinkle with the salt and sugar. Let stand for 30 minutes to soften. Give the colander a shake to dislodge excess moisture, and tip radish into a medium bowl.

2 Sprinkle with ginger juice and apple cider vinegar; toss to combine, taste and adjust seasoning if necessary.

TIP.To make ginger juice, simply grate a quantity of ginger then squeeze with your fingers over a bowl or spoon until you have your desired measure of juice.
SHARE