No-Bake Lemon-Coconut Cheesecake with Crunchy Pecan-Coconut Crust
Early Summer 2018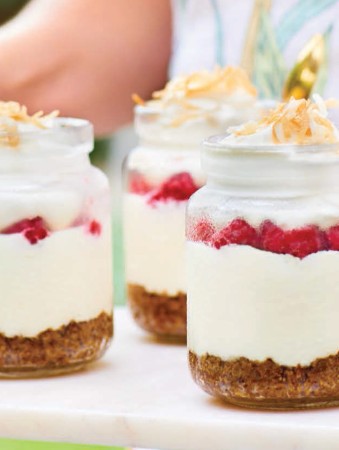 No-Bake Lemon-Coconut Cheesecake with Crunchy Pecan-Coconut Crust
Early Summer 2018
BY: Signe Langford
A perfect balance of sweet, tart, creamy, and crunchy! We're not sure if you will love us or curse us for sharing this way-too-easy and seriously delicious recipe with you. By eliminating firing up the oven on a hot summer day, there's really no reason not to make these!
CRUST
1½ cups (375 mL) candied, honey-roasted or praline pecans
½ cup (125 mL) shredded sweetened coconut
¼ cup (60 mL) melted butter

CHEESECAKE
1 tub (275 g), about 1 cup plus 1½ tbsp (250 mL plus 22 mL), mascarpone
1 cup (250 mL) room-temperature cream cheese
½ cup (125 mL) icing sugar
½ cup (125 mL) 35% cream
Zest of 1 large lemon, washed
Juice of 2 large lemons, about ½ to ¾ cup (125 to 175 mL)
1 clamshell pkg (170 g) fresh raspberries

TOPPING
¼ cup (60 mL) shredded sweetened coconut
⅔ cup (150 mL) 35% cream
Zest of 1 lemon, washed
1. Into the bowl of a food processor, add the pecans, coconut and melted butter; blitz on high until they form a medium-fine, well-combined crumble.

2. Divide between 8 jars (each 236 mL). Approximate size is fine, as would be tumblers or teacups in a pinch—each should get a heaping ¼ cup (60 mL). Press into the bottom; set aside. A drinks muddler or bottom of a small shot glass works well for this job.

3. Into the bowl of a stand mixer or with electric beaters and a large bowl, add the mascarpone, cream cheese, icing sugar, ½ cup (125 mL) 35% cream, zest and lemon juice. Blend on medium speed until creamy, smooth and well incorporated, about 3 minutes, stopping to scrape down the bowl once or twice.

4. Divide the lemon cream filling between the jars—again, each should get a heaping ¼ cup (60 mL)—smooth out the top with the back of a teaspoon, then top with raspberries; each jar should get 6 to 8 berries. Cover and set aside in the fridge to chill for at least 1 hour.

5. When ready to serve, toast the coconut by adding it to a dry skillet over medium heat; stir or shake and swirl the pan constantly and don't look away, the sugars can burn in an instant! When beginning to turn golden (about 1 minute) remove from heat and transfer to a dish; set aside to cool. If you leave it in the hot pan it will continue to brown and may burn.

6. While the toasted coconut is cooling, whip the cream for the topping with electric beaters or in the bowl of a stand mixer with the whisk attachment until stiff peaks form. Fold in the lemon zest. Add a generous dollop to each jar, sprinkle with the toasted coconut and serve immediately.
SHARE