Mulled Spice Chicken on Cinnamon Skewer
Temps des Fêtes 2005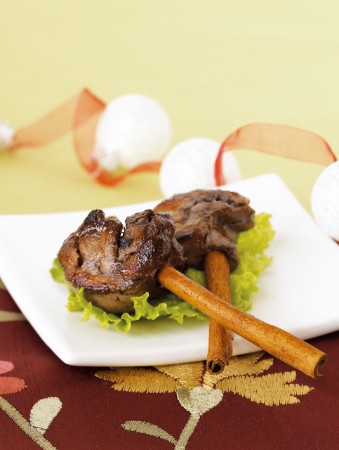 Mulled Spice Chicken on Cinnamon Skewer
Temps des Fêtes 2005
BY: Dee Gibson, Gibson & Lyle, Caterer
This recipe brings a fun, holiday twist to a more traditional appetizer. If you prefer not to use cinnamon sticks you can also use small bamboo skewers.
2 oranges
1 bottle red wine
½ cup (125 mL) sugar
6 cloves
1 cinnamon stick
¼ tsp (1 mL) ground allspice
10 chicken thighs, de-boned, skinned and trimmed of excess fat
15 cinnamon sticks, 3-inches (8-cm) long
Salt and freshly ground pepper
3 tbsp (45 mL) olive oil
1. For mulled wine reduction, remove rind from oranges with a vegetable peeler and reserve. Cut oranges in half and juice oranges.

2. Place orange rind and juice in a medium pot along with red wine, sugar, cloves, cinnamon stick and allspice. Bring to a simmer on medium heat and reduce for 25 minutes or until about 1 cup (250 mL) remains.
Reduction should be the consistency of maple syrup. Strain and cool.

3. Cut each trimmed chicken thigh into 2 or 3 hors d'oeuvre-size pieces. Pour the red wine reduction over chicken and toss. Cover with plastic wrap and marinate overnight.

4. Preheat oven to 375ºF (190ºC).

5. Cut each 3-inch (8-cm) cinnamon stick in half lengthwise to make 2 cinnamon stick skewers each. Do this by placing a heavy chef's knife on 1 end and gently tapping the knife (this will make it easier to cut right through). Set skewers aside.

6. Season marinated chicken pieces with salt and pepper and olive oil.

7. Pierce chicken pieces with cinnamon skewers and place onto a parchment-paper-lined baking sheet. Bake in the oven for 10 minutes and brush any excess marinade onto chicken for a more intense flavour. Return to oven and bake for another 2 to 5 minutes.
SHARE