Mulled Martinez
Winter 2018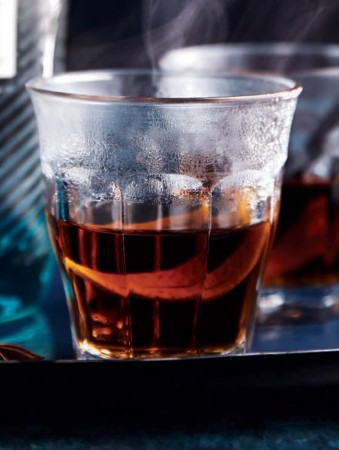 Mulled Martinez
Winter 2018
BY: Victoria Walsh
Said to be the precursor to the Martini, the Martinez traditionally boasts more vermouth (and sweet over dry, among other nuances). Though both cocktails are usually served chilled, the additional amount of fortified wine that a Martinez calls for—and here, the use of mulling spices in place of bitters—allows it to be morphed into a fantastic warm tipple.
6 oz gin
6 oz sweet red vermouth
½ tsp (2 mL) Luxardo Maraschino Liqueur
2 whole cloves
½ star anise
1 orange (optional)
1. Add gin, vermouth, maraschino liqueur, cloves and star anise to a small saucepan. Gently heat, stirring occasionally over medium until steaming but not boiling. Remove from heat. Divide between small heatproof glasses, discarding cloves and anise.

2. Using a peeler, pull a small wisp of peel (zest) from the orange. Pinch peel over the surface of 1 cocktail to release misting oils. Rub outside of peel around rim of glass. Cut a small slit and fasten to the edge of glass. Repeat with remaining cocktails. Serve warm.
SHARE