Mojito (Elderberry Twist)
Summer 2020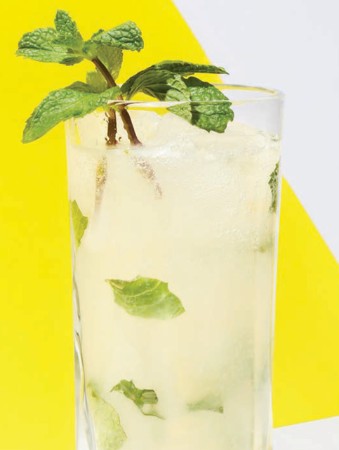 Mojito (Elderberry Twist)
Summer 2020
BY: Christine Sismondo
Dial up the summer factor with gin instead of rum and elderflower spritz (like Bottlegreen) instead of soda

Mastering Mojitos
Our vote for the most playful classic cocktail goes to the Mojito, a seriously refreshing summer highball that's got it all - cool mint, sweet rum and tart lime, all topped off with a splash of fizz. Since it's built on classic proportions, you can play with a range of different spirits and mixers and the drink will still hold up.
THE CLASSIC
Put 8 mint leaves, ¾ oz fresh lime juice, 1 tsp (5 mL) of superfine sugar and 2 oz of white rum in a tall glass and muddle until the mint is bruised and sugar dissolved. Add 6 ice cubes, top with 2 oz soda water and stir. Garnish with a fresh sprig of mint.


SHARE