Minted Lamb Loin on Puff Pastry Squares
Temps des Fêtes 2011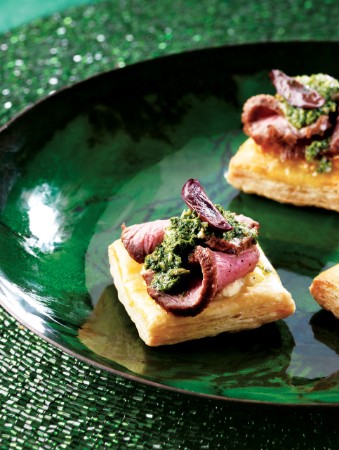 Minted Lamb Loin on Puff Pastry Squares
Temps des Fêtes 2011
BY: Christopher St. Onge
Asking your butcher to trim the lamb loin of its outer layer of fat and tough silver skin results in a beautifully tender and lean cut, perfectly suited for bite-size party food.
MINT SAUCE
1 cup (250 mL) packed mint leaves
¼ cup (60 mL) olive oil
1 tbsp (15 mL) capers
1 clove garlic
2 tsp (10 mL) sherry vinegar
Pinch dried chili flakes
1 tbsp (15 mL) water
Salt and pepper

PASTRY
1 egg
1 tbsp (15 mL) water
½ lb (250 g) frozen puff pastry sheet, defrosted
1 cup (250 mL) feta, drained and crumbled
2 tbsp (30 mL) whipping cream

LAMB
10 oz (300 g) boneless lamb loin
Salt and pepper
2 tbsp (30 mL) olive oil
5 kalamata olives, pitted and quartered
1 To make the mint sauce, combine mint, oil, capers, garlic, vinegar, chili and water in a food processor. Pulse until finely chopped. Season to taste with salt and pepper. Mint sauce may be made up to 2 days in advance and kept covered in refrigerator.

2 Preheat oven to 375°F (190°C).

3 In a small bowl, beat egg with water. Using a sharp knife, cut pastry into 20 equal pieces, each approximately 2 inches (5 cm) square. Place on a parchment-lined cookie sheet and brush top of each with beaten egg.

4 In a small bowl, combine feta and cream. Using a fork, mash lightly to combine. Place a scant tsp (5 mL) of the feta mixture in the middle of each pastry square and bake for 20 to 25 minutes or until puffed, golden and crisp. Pastry squares may be made up to 8 hours ahead and kept loosely covered with plastic wrap, at room temperature.

5 For lamb, preheat oven to 400°F (200°C).

6 Season loin generously with salt and pepper. Heat oil in a large ovenproof skillet over medium-high heat and sear meat until browned, about 2 minutes per side. Leave in skillet and place in oven for 5 minutes, or until medium-rare. Remove to a cutting board and allow meat to rest for 5 minutes.

7 To assemble, carve the fillet into thin slices and place a slice on each pastry square, folding to fit if necessary. Drizzle each with a small amount of mint sauce and top with a quarter olive. Serve immediately.



SHARE