Milanese-Style Veal Chops with Tomato-Almond Relish
Hiver 2016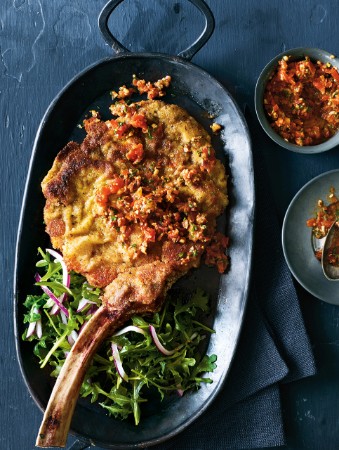 Milanese-Style Veal Chops with Tomato-Almond Relish
Hiver 2016
BY: Christopher St. Onge
I like to leave the veal a little thicker than is typical for this Milanese standby so that the chops are still a bit pink in the middle. The lovely relish is a perfect winter trick to have up your sleeve when the only fresh basil available comes in small rectangular supermarket packs, and cherry tomatoes are the only kind that taste like tomatoes. Serve these with a simply dressed arugula salad or sliced fennel that has been tossed with a little olive oil, seasoned with salt and roasted in a 425°F (220°C) oven for about 30 minutes until caramelized.
TOMATO-ALMOND RELISH
⅓ cup (80 mL) toasted almonds
10 basil leaves
1 cup (250 mL) halved cherry or grape tomatoes
2 tbsp (30 mL) drained, chopped sun-dried tomatoes in oil
1 clove garlic, finely chopped
¼ cup (60 mL) extra virgin olive oil
2 tsp (10 mL) balsamic vinegar
Salt and freshly ground pepper

CHOPS
4 frenched bone-in veal rib chops, each about ¾ inch (2 cm) thick
½ cup (125 mL) flour
2 cups (500 mL) bread crumbs
Salt and freshly ground black pepper
2 eggs
¼ cup (60 mL) finely grated Parmesan cheese
Butter and olive oil for frying
1 To make tomato-almond relish, chop almonds in the bowl of a food processor; sieve to remove dusty bits and turn out into a small bowl. Add basil, fresh and sun-dried tomatoes to food processor; pulse until mixture resembles salsa. Add to bowl. Stir in garlic, olive oil and vinegar. Season to taste with salt and pepper; set aside while preparing chops.

2 Working with 1 chop at a time, lay between 2 sheets of cling wrap or 2 re-sealable plastic bags, and pound each chop to a generous ⅓-inch (a scant cm) thickness; set aside.

3 Using 2 dinner plates, place flour on 1 and bread crumbs on the other; season bread crumbs generously with salt and pepper. Whisk eggs with Parmesan in a shallow baking dish or large bowl.

4 Dredge chops, 1 at a time, first in flour (there's no need to coat the bone), then in egg; press into bread crumbs to thoroughly cover meat.

5 Preheat oven to 200°F (100°C).

6 Heat 1 tbsp (15 mL) each butter and olive oil in a large skillet over medium heat, Once butter has stopped foaming, add 2 chops to pan and cook 2 minutes per side or until golden and crisp; remove to a baking sheet and hold in oven while frying remaining 2 chops. Refreshbutter and oil as necessary.

7 Serve chops with a generous spoonful of the relish.
SHARE