Meyer Collins
Winter 2017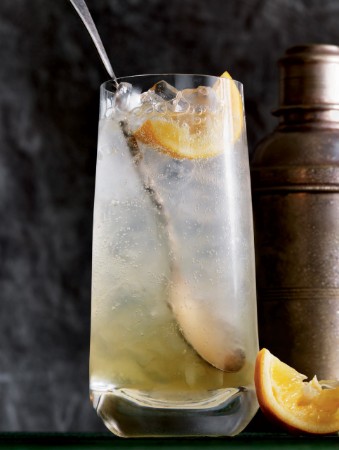 Meyer Collins
Winter 2017
BY: Eric Vellend
The Tom Collins gets an exotic twist with the fragrant juice and zest of Meyer lemons. Briefly shaking the gin, juice and syrup with three ice cubes before straining into the glass is called a "short shake." It ensures the drink is ice cold, yet won't dilute it too much since soda is added at the end.
2 oz gin
1 oz strained fresh Meyer lemon juice
¾ oz Meyer Lemon Syrup 
3 oz soda water, chilled
Meyer lemon wedge
1 Pour gin, Meyer lemon juice and syrup into a cocktail shaker. Add 3 ice cubes. Shake 5 seconds. Strain into a chilled Highball glass filled with ice. Top with soda and lightly stir. Garnish with Meyer lemon wedge.
MEYER LEMON SYRUP
Using a rasp-type grater here is key as it extracts maximum flavour with very little of the white pith. This aromatic syrup can also be used to sweeten herbal tea, or add a splash to frozen vodka for instant Limoncello.

⅔ cup (150 mL) water
⅔ cup (150 mL) granulated sugar
3 Meyer lemons, washed
1. In a small saucepan, heat water and sugar over medium-high heat, whisking until sugar is dissolved. Remove from heat. Cool to room temperature.

2. Using a microplane zester, zest the lemons, adding zest into syrup. Let infuse for 10 minutes. Pass through fine mesh strainer, pressing on zest with spoon to extract syrup. Transfer to glass jar with lid. Refrigerate up to 1 month.
SHARE