Melon & Mascarpone Tart
Summer 2019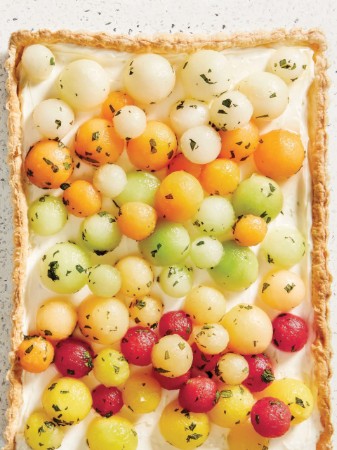 Melon & Mascarpone Tart
Summer 2019
BY: Christopher St. Onge
Use an assortment of in-season melons for this easy-to-make and easy-to-love tart. The optional white chocolate prevents your crust from getting soggy if you plan to keep the tart refrigerated for longer than a day. Use an 8-inch (20-cm) round tin if you haven't got the size indicated below. There's no need to roll the dough out further if you go this route.
1 sheet pre-rolled puff pastry (half a 454-g pkg)
1 oz (30 g) chopped white chocolate (optional)
1 ½ cups (375 mL) mascarpone
3 tbsp (45 mL) honey, divided
½ cup (125 mL) whipping cream
Finely grated zest of 1 lime
2 tbsp (30 mL) lime juice
2 cups (500 mL) assorted melon balls or spears
2 tsp (10 mL) finely chopped mint
1 long mint sprig to garnish (optional)
1 Preheat oven to 400°F (200°C).

2 On a lightly floured surface, roll out pastry into an 11 x 14-inch (28 x 35-cm) rectangle. Using your rolling pin, carefully roll up pastry dough and transfer to an 8 x 11-inch (20 x 28-cm) tart pan with a removable bottom. Press into sides firmly and trim off excess dough. Prick bottom all over with a fork.

3 Line with parchment and fill with pie weights (or dried beans). Bake in preheated oven for 15 minutes. Carefully remove parchment and weights; return to oven for an additional 10 minutes. Remove to a rack; cool completely. If using chocolate, melt using your preferred method and brush over inside bottom of tart crust; chill for 20 minutes.

4 Meanwhile, combine mascarpone, 2 tbsp (30 mL) honey and whipping cream in a large bowl; using an electric mixer, beat until stiff peaks, about 2 minutes. Fold in lime zest and scrape mixture into tart shell. Smooth with an offset spatula and chill in fridge, covered, for at least 2 hours (or as long as overnight).

5 In a large clean bowl, combine remaining 1 tbsp (15 mL) honey with lime juice; whisk until honey is dissolved. Add melon and chopped mint; gently toss to combine. Arrange melon (leaving excess liquid in bowl) decoratively over tart filling and garnish with mint sprig, if desired. Serve at once.
SHARE