Matcha, Coconut & Honey Energy Bites
Printemps 2020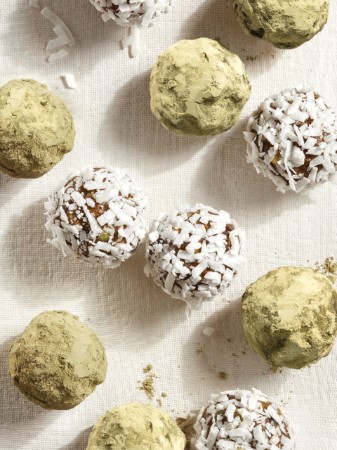 Matcha, Coconut & Honey Energy Bites
Printemps 2020
BY: Marcella DiLonardo
For those who haven't baked with matcha before, matcha is powdered green tea leaves in their purest form. For this recipe, it is important to use a good quality blend of matcha, as this will result in a much more pleasant and strong green tea flavour. Matcha is packed with antioxidants, boosts metabolism, and is rich in fibre. These energy bites make for the perfect healthy start to your morning or a great pick-me-up in the afternoon!
½ cup (125 mL) roasted, salted shelled pistachios
½ cup (125 mL) natural almond butter
6 pitted Medjool dates
½ cup (125 mL) unsweetened flaked coconut, plus more for rolling
3 tbsp (45 mL) raw honey
1 tsp (5 mL) pure vanilla extract
2 tsp (10 mL) good-quality matcha powder, plus more for dusting
1 Place pistachios, almond butter, dates, coconut, honey, vanilla and matcha in a food processor. Blend until mixture begins to come together, about 60 seconds. Refrigerate for 30 minutes to firm.

2 Shape mixture into 15 bite-sized balls. Roll balls in flaked coconut or dust with matcha powder, if desired.

3 Refrigerate until ready to eat. Store in an airtight container for up to a week.
SHARE