Marinated Lima Beans & Marcona Almonds
Summer 2020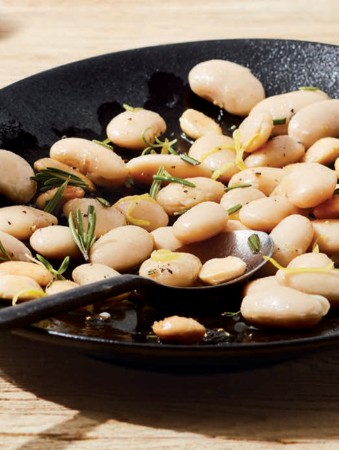 Marinated Lima Beans & Marcona Almonds
Summer 2020
BY: Michelle Rabin
A bowl of beans might not strike you as an ideal appetizer, but this bowl of beans might make you think otherwise. Giant lima beans, also referred to as gigantes or butter beans, have a satisfying bite and an earthy, buttery flavour. They are the perfect size to pick up with your fingers or a tooth pick or to spoon onto fresh baguette. Marcona almonds get tossed into this mix to add texture and richness. If you can't find these specialty almonds, regular roasted almonds will do the trick. The nuts and beans marinate in a lemony, herby oil that is as precious as the beans themselves. It's highly recommended to have some bread around to sop up all the goodness left at the bottom of the bowl.
1 can (540 mL) lima beans, drained and rinsed
¼ cup (60 mL) Marcona almonds
2 garlic cloves, smashed
½ cup (125 mL) olive oil
1 tsp (5 mL) lemon zest
1 tbsp (15 mL) lemon juice
1 tbsp (15 mL) chopped rosemary Freshly ground pepper
Baguette slices (optional)
1 Combine beans, almonds, garlic, oil, lemon zest, juice and rosemary in a bowl and stir. Let marinate for minimum 1 hour or for up to 24 hours in the fridge.
2 Remove garlic from bean mixture and add freshly ground pepper. Serve in a shallow bowl, if serving with bread, to spoon the mixture on to bread slices.
SHARE