Maple Cream Tart with Chantilly Cream
Early Summer 2017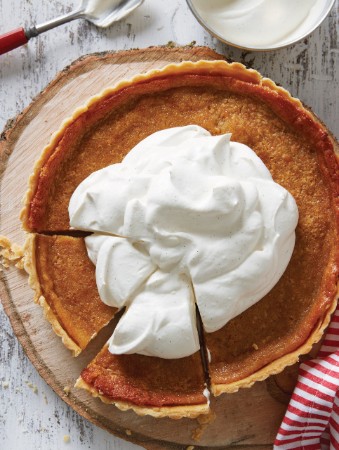 Maple Cream Tart with Chantilly Cream
Early Summer 2017
BY: Chef Michael Hunter, Antler Restaurant
This makes enough pastry for 2 tart bases. Freeze one for another use. The Chantilly cream is a decadent final touch.
PASTRY
3¼ cups (810 mL) all-purpose flour
1 tsp (5 mL) salt
1 cup (250 mL) unsalted butter, cubed and chilled
1 tbsp (15 mL) bacon fat, chilled
1 egg
1 egg yolk
2 tbsp (30 mL) fresh lemon juice
Ice water as needed
MAPLE FILLING
1 cup (250 mL) maple syrup
¾ cup (175 mL) sweetened condensed milk
½ cup (125 mL) brown sugar
2 eggs
¼ tsp (1 mL) salt
CHANTILLY CREAM
1 vanilla bean
2 tbsp (30 mL) sugar
1 cup (250 mL) whipping cream
1 Sift together flour and salt in a large bowl. Cut in butter and bacon fat until the mixture resembles coarse bread crumbs.
2 Whisk together egg, egg yolk and lemon juice. Combine egg mixture and flour mixture with a fork until dough holds together when squeezed without crumbling. If dough is too dry, add ice water, 1 tsp (5 mL) at a time. Divide dough into 2 discs and wrap tightly with plastic wrap. Freeze for 30 minutes.
3 Roll 1 disc into a 13-inch (33-cm) round. Carefully place into a 9-inch (23-cm) tart pan, pressing into corners and trimming away any excess. Reserve in refrigerator.
4 Preheat oven to 375°F (190°C).
5 Whisk together maple syrup, condensed milk, sugar, eggs and salt until smooth. Strain mixture into prepared tart shell.
6 Place tart on a baking sheet and bake in lower third of oven until pastry is golden brown and filling is set, about 25 to 35 minutes. cool to room temperature.
7 Cut vanilla bean in half lengthwise and scrape out the seeds. Place vanilla seeds and sugar in a food processor and pulse until sugar and seeds are evenly mixed. Add cream and blend, scraping down sides as needed, until cream is thickened and holds soft peaks, about 1 to 2 minutes. Reserve, chilled, until serving. Spoon cream over tart or slice and serve with cream.
SHARE