Mango and Grilled Pineapple Salad with Coconut-Lime Dressing
Summer 2020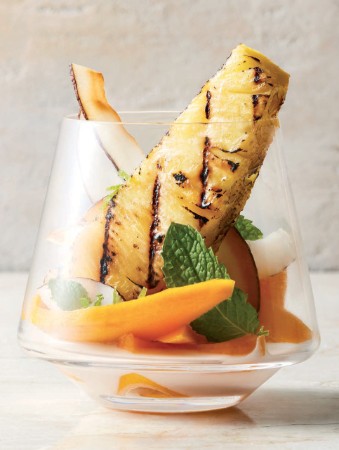 Mango and Grilled Pineapple Salad with Coconut-Lime Dressing
Summer 2020
BY: Eric Vellend
Succulent slices of mango are paired with smoky grilled pineapple in a tropical fruit salad with coconut chips, mint and a tangy coconut milk dressing. Be sure to give your grill a good cleaning beforehand so the pineapple doesn't end up tasting like last night's burgers. If you have cilantro on hand, it would work well in place of mint.
1 small can (160 mL) coconut milk
2 tbsp (30 mL) fresh lime juice
1 tbsp (15 mL) light brown sugar
Finely grated zest of 1 lime
Large pinch salt
½ ripe pineapple, trimmed, peeled
Vegetable oil for brushing
2 ripe Ataulfo mangoes or 1 large Kent mango
⅓ cup (80 mL) coconut chips
Whole mint leaves to garnish
1 Empty can of coconut milk into a mixing bowl. Whisk vigorously until cream is incorporated evenly into liquid. Whisk in lime juice and sugar until sugar is dissolved. Whisk in zest and salt. Transfer to airtight container. Refrigerate up to 3 days.

2 Cut pineapple in half through core. Remove and discard core from both halves. Cut each piece lengthwise into 3 spears. Place pineapple on baking sheet and brush with oil.

3 Preheat grill to medium-high. Clean and oil grate.

4 Grill pineapple until charred and lightly caramelized, about 2 minutes per side. Transfer to a serving platter.

5 Peel mangos and cut flesh away from pits. Cut flesh into strips and arrange in between pineapple spears. Drizzle salad generously with dressing, saving the rest for another use. Sprinkle with coconut chips and mint.
SHARE