Little Gem Salad with Sourdough Croutons
Autumn 2019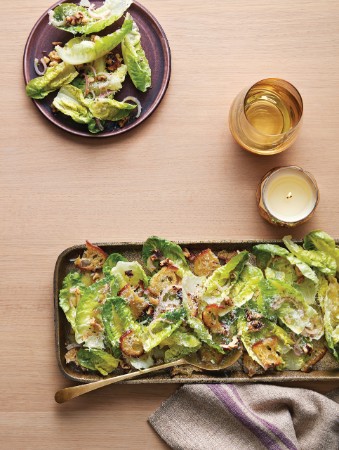 Little Gem Salad with Sourdough Croutons
Autumn 2019
BY: Christopher St. Onge
Little gem lettuce looks much like romaine, only smaller. Because the leaves are tightly packed, it makes an excellent braising or grilling lettuce. Its sweet leaves are great raw, too, and the separated leaves can be left whole rather than torn into pieces. Think of it as romaine's more charming cousin. It can be found at many large grocers in packs of four, more than enough for a large salad.
CROUTONS
1 small clove garlic
Pinch salt
2 tbsp (30 mL) extra virgin olive oil
12 very thin slices sourdough baguette

DRESSING
1 tbsp (15 mL) white wine vinegar
1 tsp (5 mL) lemon juice
2 tsp (10 mL) honey
1 1/2 tsp (7 mL) Dijon mustard
2 tsp (10 mL) chopped thyme
1 tsp (5 mL) finely grated garlic
2 tbsp (30 mL) walnut oil
1/4 cup (60 mL) extra virgin olive oil
1 small shallot, halved and thinly sliced
Salt and freshly ground black pepper
4 heads little gem lettuce
1/2 cup (125 mL) chopped walnuts, toasted
1/4 cup (60 mL) finely grated ricotta salata or Parmesan
1 Preheat oven to 375°F (190°C).

2 For the croutons, finely chop garlic; sprinkle salt over and use the side of a large chef's knife to work garlic to a paste. Add to a medium bowl; pour oil over and whisk to combine. Add baguette; toss to coat bread evenly with oil mixture.

3 Arrange in a single layer on a baking sheet and cook in preheated oven for 7 to 8 minutes, turning over midway, until golden. Break into bite-sized pieces and set aside.

4 In the bottom of a large salad bowl, whisk together vinegar, lemon juice, honey, Dijon, thyme and garlic. Slowly drizzle in walnut oil, then olive oil, whisking constantly until incorporated. Stir in shallot; season to taste with salt and pepper.

5 Separate leaves from heads of lettuce and add to bowl along with reserved croutons; toss to coat in dressing. Top with walnuts and cheese.
SHARE