Lemony Garlic Butter-Bean Dip
Temps des Fêtes 2019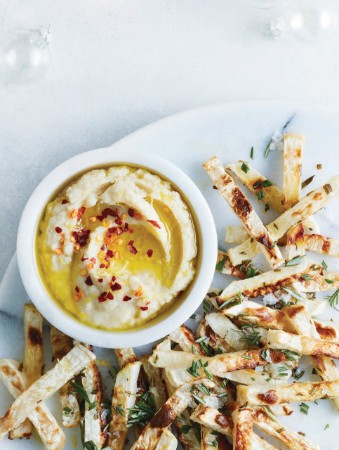 Lemony Garlic Butter-Bean Dip
Temps des Fêtes 2019
BY: Irene Matys
Butter beans are not only high in iron and a great source of fibre and protein, they also have a wonderful creamy buttery texture when puréed. This dip takes no time to prepare and its light fresh taste makes for a perfect addition to your holiday entertaining.
2 cans (each 398 mL) butter beans 
¼ cup (60 mL) extra virgin olive oil
1 large garlic clove, roughly chopped
5 tbsp (75 mL) fresh lemon juice
½ tsp (2 mL) sea salt
½ tsp (2 mL) fresh ground pepper
GARNISH
1 tbsp (15 mL) extra virgin olive oil
½ tsp (2 mL) dried chilies
Zest of 1 lemon
1 Drain and rinse butter beans and place in food processor. Add remaining ingredients and process until smooth.
2 Place in serving bowl and garnish with olive oil, chilies and lemon zest. Serve alongside warm Roasted Rosemary & Sea Salt Turnip Fries (recipe below).
ROASTED ROSEMARY & SEA SALT TURNIP FRIES
Turnip fries are a delicious low-carb alternative to regular potato french fries and a great way to incorporate more vegetables into your diet. They bake crispy and are perfect for dipping or can be enjoyed as a side.
4 medium-size turnips, peeled
2 tbsp (30 mL) extra virgin olive oil
2 tbsp (30 mL) fresh rosemary, finely chopped
1 tsp (5 mL) sea salt
½ tsp (2 mL) fresh ground pepper
1 Preheat oven to 425 F (220 C). Line a large baking sheet with parchment paper.
2 Cut turnips into ¼-inch-thick (5-mm) fries and place in a medium bowl. Toss well with olive oil, rosemary, salt and pepper.
3 Divide fries evenly on baking sheet, ensuring they are not overlapping. You can divide them on 2 baking sheets if necessary. Bake fries for 20 to 25 minutes, flipping halfway through until fries are golden and crisp.
4 Serve hot with dip or as a side dish.
SHARE