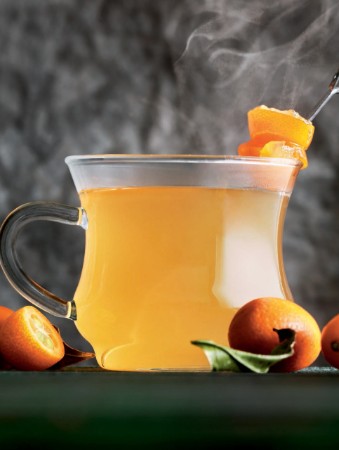 BY: Eric Vellend
Rising to popularity in the 18th-century Royal Navy, grog is considered to be one of the oldest cocktails. Rum helped make the stagnant ship water more palatable, and citrus juice warded off scurvy. Modern grog, like this one, is usually served hot. Here kumquat syrup and lime juice create sweet-sour tension, while a dash of bitters adds a hint of spice.
2 oz amber rum
¾ oz Kumquat Syrup (recipe follows)
½ oz strained fresh lime juice
1 dash Angostura bitters
4 oz boiling water, plus more for warming mug
Candied Kumquat (recipe follows) on cocktail pick
1. Fill a glass coffee mug with boiling water. Let stand 30 seconds. Dump water and dry outside of mug.

2. Place rum, kumquat syrup, lime juice and bitters in mug. Pour in boiling water. Garnish with kumquat slices
CANDIED KUMQUATS & SYRUP
While kumquats are delicious raw, poaching them in sugar syrup tempers their acidic bite. You can use the syrup to sweeten cocktails and the candied slices to garnish them. This preserve is also delicious spooned over most chocolate desserts.

12 kumquats
1 cup (250 mL) water
½ cup (125 mL) granulated sugar
1. Slice kumquats into ¼-inch-thick (5-mm) rounds. Using a skewer, poke out seeds.

2. In a small saucepan, bring water and sugar to a boil over medium-high heat, whisking to dissolve sugar. Add kumquat slices. Reduce heat to maintain gentle simmer. Cook, stirring occasionally, until kumquats are tender, about 12 minutes. Remove from heat and cool completely.

3. Transfer kumquats and their syrup to a glass jar with lid. Refrigerate up to 1 month.
SHARE