Kimchee Beef Salad Roll
Summer 2014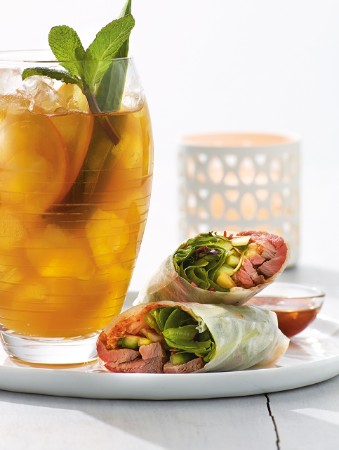 Kimchee Beef Salad Roll
Summer 2014
BY: Eshun Mott
Store-bought cabbage kimchee and savoury sliced beef add huge flavour to the ubiquitous summer salad roll.
3 tbsp (45 mL) low-sodium soy sauce
1 tbsp (15 mL) fresh lemon juice
1 tbsp (15 mL) chopped garlic
2 tsp (10 mL) sugar
1 tsp (5 mL) sesame oil
12 oz (375 g) fully trimmed grilling steak, 1 inch (2.5 cm) thick
2 tsp (10 mL) canola oil
8 round rice-paper wrappers, 8½ inches (21 cm)
1 cup (250 mL) sliced cabbage kimchee
½ cup (125 mL) spicy microgreens or sprouts(such as radish)
1 piece English cucumber, 4 inches (10 cm), cut into matchsticks
2 green onions, cut into 4-inch (10-cm) lengths, slivered
4 cups (1 L) mixed field greens

DIPPING SAUCE
¼ cup (60 mL) unseasoned rice vinegar
1 tbsp (15 mL) sugar
2 tsp (10 mL) low-sodium soy sauce
½ tsp (2 mL) Asian chili sauce
½ tsp (2 mL) finely chopped garlic
1 Combine soy sauce, lemon juice, garlic, sugar and sesame oil in a sealable plastic bag. Add steak and squish to cover. Seal and refrigerate for 1 to 2 hours.

2 Remove steak from marinade and pat dry with paper towels. Heat a heavy frying pan over high heat. Add oil and tilt carefully to coat. Add steak, turn heat to medium-high and sear, turning, for 6 to 7 minutes (for medium-rare) or until desired degree of doneness is reached. Remove steak from pan and let rest 10 minutes. Slice steak very thinly into long slices against the grain.

3 Working with 1 sheet at a time, dip a rice-paper wrapper into a bowl of hot tap water. Leave for 8 seconds or until beginning to soften, and lay onto countertop (wrappers continue to soften as they sit). Lay a few slices of steak along the middle of each wrapper leaving a 1-inch (2.5-cm) border at each end and top with about 2 tbsp (30 mL) kimchee. Sprinkle sprouts in a row next to steak and top with cucumbers and green onions. Add a handful of field greens. Fold outside edges over greens then fold edge closest to you up over filling, and roll, holding filling in place until fully enclosed. Repeat until all wrappers are filled and rolled.

4 Place salad rolls ½ inch (1 cm) apart on a plastic lined tray, and cover with plastic. Refrigerate until ready to serve. Use a serrated knife to cut salad rolls in thirds.

5 Whisk together rice vinegar, sugar, soy sauce, Asian chili sauce and garlic until sugar has dissolved. Serve alongside rolls for dipping.
SHARE