Kedgeree with Summer Peas & Smoked Trout
Early Summer 2014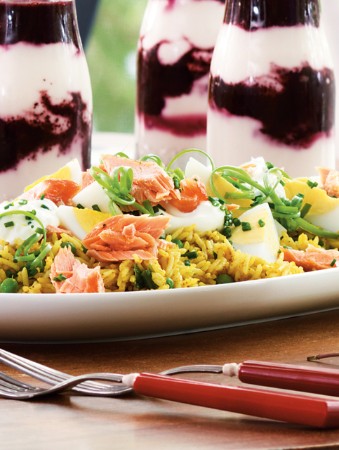 Kedgeree with Summer Peas & Smoked Trout
Early Summer 2014
BY: Victoria Walsh
This East Indian-inspired brekkie is hugely popular in England. It is elegantly simple and delicious warm or at room temperature. This version calls for crème fraîche over a traditional cream sauce so there's one less step.Cooked rice can be prepared a day in advance. Store covered and refrigerated for up to 1 day.
2 cups (500 mL) basmati rice
4 large eggs
⅓ cup (80 mL) butter
4 green onions, chopped
3 tbsp (45 mL) good-quality curry powder
1 tbsp (15 mL) minced fresh ginger
2 tsp (10 mL) lemon zest
1 cup (250 mL) shelled fresh summer peas or frozen peas
½ lb (250 g) smoked trout
½ cup (125 mL) crème fraîcheor plain yogurt
½ cup (125 mL) chopped chives
1 Cook rice following package directions. Meanwhile, prepare eggs by placing in a large pot. Fill with cold water. Set over high heat. Bring just to a boil. Remove from heat. Let stand for 10 minutes. Drain and run cold water overtop until cooled. Peel and slice in quarters. Set aside.

2 Meanwhile, melt butter in a large frying pan set over medium heat. Add onions, curry, ginger and lemon zest. Stir. Add peas. Cook, stirring frequently for 3 minutes until fragrant and onions soften. Gently fold in fluffed cooked rice. Divide between plates. Top each with sliced hard-boiled egg pieces and chunks of smoked trout. Dollop with crème fraîche and sprinkle with chives.
SHARE