Japanese Noodle and Vegetable Salad with Flank Steak
Early Summer 2018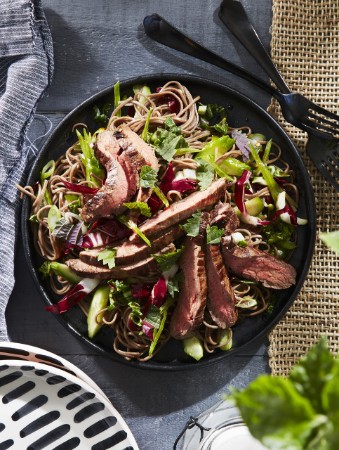 Japanese Noodle and Vegetable Salad with Flank Steak
Early Summer 2018
BY: Lucy Waverman
Soba noodles, made with buckwheat flour, are healthy and gluten-free. They have a lot of flavour, so they match well with the flank steak. I serve the salad at room temperature, with the meat hot, but it tastes equally good the next day when the steak is cold. Lots of Japanese elements make a delightfully different substantial salad. Perilla leaves are available at Asian grocery stores and have a lovely taste reminiscent of both mint and coriander. Substitute either herb for perilla if not available.
1 flank steak, about 1¼ to 1½ lbs (565 to 680 g)

MARINADE
2 tbsp (30 mL) wasabi powder
2 tbsp (30 mL) water
2 tbsp (30 mL) soy sauce
2 tsp (10 mL) grated lime zest
2 tbsp (30 mL) lime juice
2 tsp (10 mL) granulated sugar
2 tsp (10 mL) grated ginger

SOY DRESSING
2 tbsp (30 mL) soy sauce
2 tbsp (30 mL) Japanese rice vinegar
2 tbsp (30 mL) vegetable oil
1 tbsp (15 mL) lime juice
1 tsp (5 mL) Asian chili sauce such as sambal oelek
1 tsp (5 mL) honey
1 tsp (5 mL) sesame oil

SALAD
6 oz (170 g) soba noodles
2 cups (500 mL) thinly sliced baby bok choy
1 cup (250 mL) slivered snow peas, about 2 oz (55 g)
1 cup (250 mL) sliced Treviso radicchio
2 cups (500 mL) small Persian or other cucumbers, cut on the bias
3 green onions, cut on the diagonal
Salt and freshly ground pepper
2 tbsp (30 mL) vegetable oil, for grilling

GARNISH
6 perilla leaves, torn (optional)
1 Score flank steak lightly on both sides. Reserve in a large dish. Whisk together wasabi powder and water until smooth. Add soy sauce, lime zest, lime juice, sugar and ginger, whisking to combine. Pour wasabi mixture over steak and marinate for 1 hour at room temperature or 4 hours refrigerated.

2 For soy dressing, whisk together soy sauce, rice vinegar, oil, lime juice, chili sauce, honey and sesame oil until combined; reserve.

3 Bring a large pot of water to a boil. Add noodles and cook according to the package directions until al dente. Drain and rinse under cool water. Drain well.

4 Toss noodles with bok choy, snow peas, radicchio, cucumber, green onions and soy dressing. Season to taste with salt and pepper. Arrange on a platter and set aside.

5 Preheat barbecue grill to high. Lightly oil grates.

6 Remove steak from marinade, dabbing off excess with paper towel. Brush both sides of steak with oil. Place steak on grill and cook about 4 minutes a side or until medium-rare.

7 Let sit 5 minutes then slice against grain. Place on top of noodles and garnish with perilla, mint or coriander leaves.
SHARE