Individual Beef and Stout Pie
Winter 2009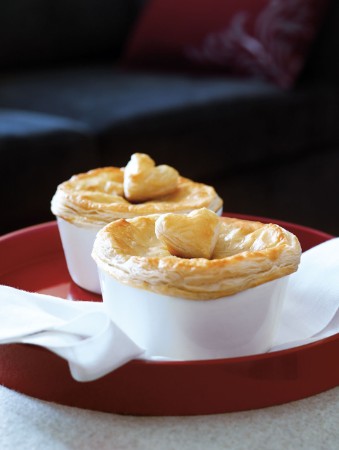 Individual Beef and Stout Pie
Winter 2009
BY: Tonia Wilson-Vuksanovic
Have your sweetheart tuck into their very own bowlful of this mouth-watering classic. A crown of puff pastry makes this pie not only delicious but also fun to eat.
1 lb (500 g) good quality stewing beef
1½ tbsp (22 mL) flour
Salt and pepper to taste
1 tbsp (15 mL) olive oil
1 cup (250 mL) onions, coarsely chopped
3 cloves garlic, finely chopped
1 tsp (5 mL) fresh thyme, finely chopped
⅛ tsp (0.5 mL) chili flakes
1 tbsp (15 mL) tomato paste
1 can (440 mL) stout beer (i.e. Wellington, St. Ambroise or Guinness)
2 cups (500 mL) beef stock
1 cup (250 mL) carrots, peeled and diced
2 cups (500 mL) celery root, peeled and diced (Yukon Gold potatoes can be used in place of celery root if desired)
1 pkg frozen puff pastry, thawed
1 egg, lightly beaten with 1 tsp (5 mL) milk
1. In a medium bowl, toss together the beef and flour until well coated, season generously with salt and pepper.

2. In a large pot, heat oil over medium-high heat. Add beef to pot and brown well on all sides, about 15 minutes. Make sure not to burn the bottom of the pot.

3. Remove beef from pot and set aside, add more oil to pot if necessary and add onions and cook for 5 minutes.

4. Add garlic, thyme, chili flakes and tomato paste, cook for 2 minutes longer.

5. Stir in stout while scraping up browned bits from bottom of pot. Add beef and beef stock.

6. Bring to a boil and then lower to simmer. Simmer, covered, for 45 minutes over low heat.

7. Add carrots and celery root and cook for another 60 minutes with the pot's lid slightly open (1 inch/2 cm) to allow steam to escape.

8. Beef mixture is finished when meat is tender and liquid has reduced to a sauce consistency. Season to taste with salt and pepper if needed and let mixture cool to room temperature.

9. Preheat oven to 375°F (190°C).

10. Using 2-cup (500-mL) ramekins or ovenproof bowls, divide beef mixture between the 2.

11. Roll out puff pastry to a thickness of a ¼ inch (5 mm). Using a plate as a guide, cut out 2 circles to cover the ramekins with a ½-inch (1-cm) overhang. Make 2 slits in the middle of each circle.

12. Brush egg mixture around the edges of circle: this will adhere pastry to ramekin.

13. Flip circle over and place on top of each ramekin, brush entire surface of pastry with egg.

14. Place ramekins on a baking sheet and place in lower third of the oven. Bake for 20 minutes, or until pastry has risen and is golden and beef mixture is warmed through. Serve immediately.
SHARE