Indian-Style Buttered Mushroom & Pea Curry
Autumn 2020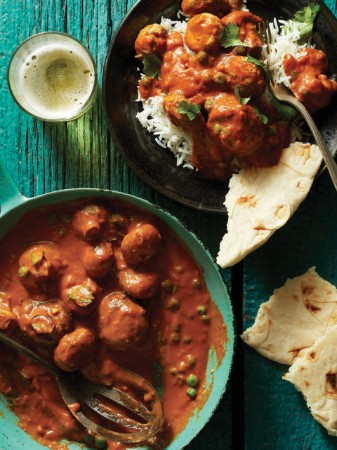 Indian-Style Buttered Mushroom & Pea Curry
Autumn 2020
BY: Victoria Walsh
A riff on buttered chicken that uses whole button and crimini mushrooms in place of meat. The fragrant and luxurious sauce works beautifully with fungi and peas. Serve it over steamed basmati or with baked naan or paratha.
MARINATED MUSHROOMS

¾ cup (175 mL) full-fat plain yogurt, 6 or 8%
1 tsp (5 mL) finely grated fresh ginger
2 garlic cloves, minced
1 tbsp (15 mL) each ground coriander and ground cumin
1 tsp (5 mL) kosher salt
3 lbs (1.36 kg) whole white button or crimini mushrooms, preferably a mix
SAUCE

½ cup (125 mL) unsalted butter
1 yellow onion, finely diced
4 garlic cloves, minced
1 tbsp (15 mL) finely grated fresh ginger
2 tbsp (30 mL) garam masala
1 tsp (5 mL) ground turmeric
1 tsp (5 mL) kosher salt
1 cinnamon stick
4 cardamom pods (optional)
1 whole clove
1 jar (660 mL) strained tomato purée or passata
1 cup (250 mL) whipping cream, 35%
½ cup (125 mL) water
2½ cups (625 mL) frozen peas
½ cup (125 mL) chopped cilantro, plus more for garnishing
1. To marinate mushrooms, pour yogurt into a large bowl. Stir in ginger, garlic, coriander, cumin and 1 tsp (5 mL) salt. Add mushrooms and stir to coat. Let stand for 20 minutes.
2. Arrange oven racks in top and bottom thirds. Preheat oven to 500°F (260°C).
3. Divide and tumble mushrooms over 2 parchment-lined baking sheets. Roast on parchment until tender, 10 to 12 minutes.
4. Prepare sauce by melting butter in a large, wide pot, set over medium heat. When bubbling, add onion, garlic and ginger. Cook, stirring often, until onion softens slightly, 5 minutes. Add garam masala, turmeric, 1 tsp (5 mL) salt, cinnamon stick, cardamom and clove. Stir often until fragrant and onion is soft , about 1 minute. Pour in tomato purée. Adjust heat and gently simmer, allowing flavours to develop, 10 minutes. Slowly stir in cream and water to mix. Add roasted mushrooms. Stir to evenly coat. 5 Increase heat to medium. Cook, simmering and stirring often, until flavours develop, 5 minutes. Stir in peas. Cook until tender, 2 to 3 more minutes. Remove and discard cinnamon stick, cardamom pods and clove. Stir in cilantro. Serve garnished with more cilantro, if you like.
SHARE