Huli-Huli Chicken & Pineapple
Summer 2017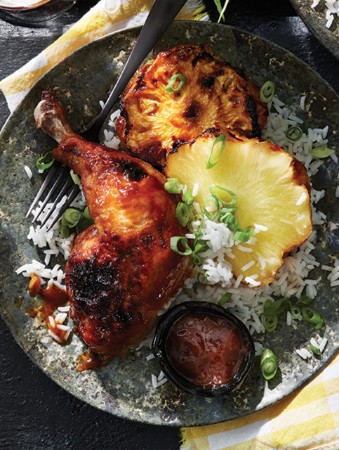 Huli-Huli Chicken & Pineapple
Summer 2017
BY: Christopher St. Onge
A Hawaiian roadside staple, huli-huli chicken is a finger-licking grilled bird basted with a salty-sweet sauce made in part with  pineapple juice. It's fitting then that you should thread the spit with a whole, peeled pineapple too, to eat alongside. Both the chicken and the pineapple are ready at the same time, and extra sauce is served alongside for dunking. If you brine your bird first thing in the  morning, it will be ready to put on the fire for dinner. The combination of pineapple, chicken and sauce with a side of rice is aces.
3 tbsp (45 mL) salt
3 tbsp (45 mL) sugar
6 cups (1.5 L) water
3 inch (8 cm) length ginger, sliced
1 head garlic, cut in half to expose cloves
1 chicken, 4 lbs (2 kg)
1 tsp (5 mL) black peppercorns
1 large whole pineapple, trimmed and peeled, core intact

HULI-HULI SAUCE

½ cup (125 mL) ketchup
½ cup (125 mL) reduced-sodium soy sauce
⅓ cup (80 mL) pineapple juice
¼ cup (60 mL) mirin
⅓ cup (80 mL) packed brown sugar
½ tsp (2 mL) sriracha
3 cloves garlic
2 tsp (10 mL) chopped ginger
¼ tsp (1 mL) sesame oil
1. In a medium pot, combine the salt, sugar, water, ginger and garlic. Bring to a boil, remove from heat, and cool to room temperature. Place chicken and peppercorns in a large resealable plastic bag; pour brine over. Remove excess air, seal bag and refrigerate for 6 to 10 hours.

2. Set up your gas or charcoal grill for rotisserie cooking and maintain a temperature of 375°F (190°C). Set a drip pan (a disposable aluminum roasting pan is best) half filled with water under where roast will turn. Keep a pitcher of water nearby to refresh water as necessary.

3. Thread spit through pineapple core lengthwise; set aside.

4. Remove chicken from brine; pat dry inside and out. Turn wings under and, using a piece of twine, truss them snugly against the body. Using a second piece of twine, tie legs together. Neck end first, thread chicken onto spit and use picks at either end of spit to secure chicken and pineapple snugly together.

5. Mount in rotisserie brackets and turn rotisserie on. Cook for 1 hour or until thermometer inserted into thigh registers 150° to  155°F (65° to 68°C).

6. Meanwhile, prepare the huli-huli sauce. Combine all of the ingredients in a small pot over medium heat; simmer for 10 minutes.
Using an immersion blender, purée.

7. Brush both the pineapple and the chicken with the huli-huli sauce, cook 10 to 15 minutes longer or until internal temperature is 165°F (74°C). Remove both pineapple and chicken to a board, tent chicken with foil and rest for 10 minutes. Carve chicken and  serve with pineapple rounds and extra sauce on the side.


SHARE