Hot Buttered Applejack
Temps des Fêtes 2019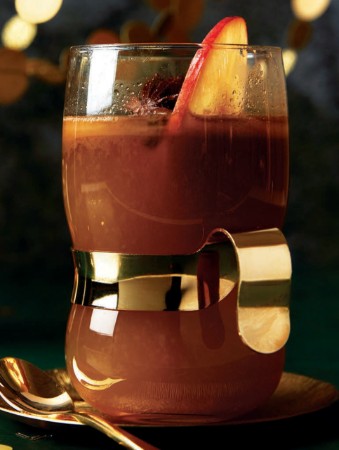 Hot Buttered Applejack
Temps des Fêtes 2019
BY: Eric Vellend
Hot buttered rum gets a holiday makeover with Calvados and sweet apple cider. And instead of traditional baking spices, Angostura bitters give this cocktail a wonderful fragrance and a strong backbone. Melting butter into a hot drink may sound odd, but one sip of this soothing beverage will make you a believer.
SPICED BUTTER
3 tbsp (45 mL) unsalted butter, softened
1 tbsp (15 mL) light brown sugar, packed
1 tsp (5 mL) fi nely grated lemon zest
6 dashes Angostura bitters
1 cup plus 2 tbsp (280 mL) Calvados
3 cups (750 mL) sweet non-alcoholic apple cider
2 tbsp (30 mL) strained fresh lemon juice
Whole star anise and thin apple slices to garnish
1 In a small mixing bowl, mash butter, sugar, lemon zest and bitters until there are no yellow streaks. Cover and refrigerate up to 1 day. Bring to room temperature and beat again with a fork before making drinks.
2 Warm 6 Irish Coffee mugs with boiling water.
3 In a medium pot, heat Calvados, cider and lemon juice over medium heat just until hot. (Do not let it come to a simmer.) Drain mugs of hot water and place 1 ½ tsp (7 mL) of spiced butter in each. Working one at a time, ladle 5 ½ oz of cider mixture into mug and whisk in mug for 10 seconds. Top with a star anise and an apple slice and serve immediately.
SHARE