Honeyed White Pizza
Temps des Fêtes 2016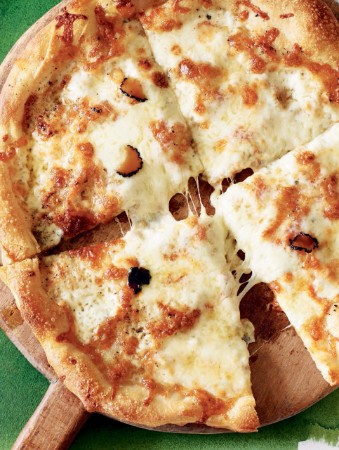 Honeyed White Pizza
Temps des Fêtes 2016
BY: Christopher St. Onge
The dough for this pizza should be started the day before you plan to make the pizza. Do your best to wait the full 18 hours before the second rise. The payoff is a slightly soured, utterly delicious crust with a satisfying chewy texture. Don't use fresh mozzarella; instead opt for low-moisture dry mozzarella. Truffle-infused honey is available at better cheese shops and high-end grocers.
DOUGH
⅓ cup plus 1 cup (80 mL plus 250 mL) warm water, divided
½ tsp (2 mL) sugar
2 tsp (10 mL) active dry yeast
3¼ cups (810 mL) bread flour, plus extra for dusting
1½ tsp (7 mL) fine sea salt
Olive oil for greasing bowls

½ cup (125 mL) finely grated Parmesan cheese, divided
¼ cup (60 mL) whipping cream, divided
1 cup (250 mL) grated mozzarella, divided
Coarsely ground black pepper
3 oz (90 g) brie or Taleggio, thinly sliced and torn into small pieces, divided
4 tsp (20 mL) truffle-infused honey
1 For the dough, combine ⅓ cup (80 mL) warm water and sugar in a small bowl; sprinkle yeast over water. Allow to rest until foamy, about 10 minutes.

2 In a separate large bowl, combine flour and salt. Pour yeast mixture over flour; add remaining water and stir until dough comes together. Turn out onto a lightly floured surface and knead for 5 minutes (if dough is sticky, sprinkle only as much flour over dough to make easier to handle) until smooth.

3 Grease a large mixing bowl with olive oil, place dough in bowl, cover and let stand for 12 to 18 hours. Punch down, divide in 2 equal-sized balls, place each in its own oiled bowl; cover with cling wrap and leave to rise 3 hours longer.

4 Arrange a rack in the upper third of the oven. Place pizza stone, baking steel or large baking sheet on rack and preheat oven to its maximum heat setting. (If using a pizza stone or baking steel, allow to heat for 30 minutes prior to baking.)

5 Cut out 2 parchment rounds 12 inches (30 cm) in diameter. Working with 1 ball of dough, dust top liberally with flour (dough will be quite soft and sticky) and carefully turn dough out onto a closed fist; gently stretch to cover hand and flip over onto 1 of the parchment rounds. Stretching outward from centre, pull dough towards the edges of the paper to create a pizza roughly the size of the parchment.

6 Leaving a 1-inch (2.5-cm) border, sprinkle with ¼ cup (60 mL) Parmesan and drizzle with 2 tbsp (30 mL) cream; follow with ½ cup (125 mL) mozzarella and a generous grating of coarse black pepper. Scatter pizza with half of the brie. Using a pizza peel or another baking sheet, transfer pizza and parchment to pizza stone. Bake for 6 to 10 minutes depending on oven temperature and desired doneness. Drizzle pizza with 2 tsp (10 mL) of the truffle honey and cut into slices.

7 Repeat with remaining dough and toppings to make second pizza.
Makes 2 pizzas, 12 inches (30 cm) each
SHARE