Hoisin Beef & Cashew Lettuce Wraps
Early Summer 2014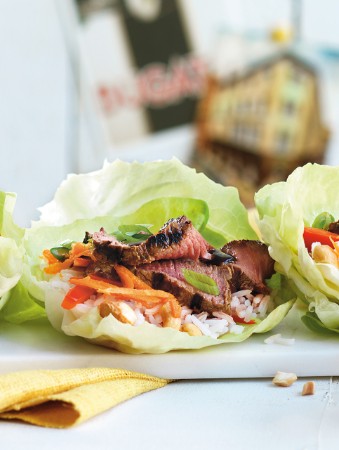 Hoisin Beef & Cashew Lettuce Wraps
Early Summer 2014
BY: Tonia Wilson-Vuksanovic
This dish is far less complicated than it might seem: a little chopping and slicing and the work is done. It is also exceptionally healthy and full of flavour.
1½ lbs (750 g) beef tenderloin or top sirloin grilling medallions, about 1 inch (2.5 cm) thick
⅓ cup (80 mL) hoisin sauce plus extra for dipping
1 head Boston or green leaf lettuce, washed and leaves left whole
1 red pepper, finely julienned
1 carrot, peeled and grated
½ cup (125 mL) green onions, finely sliced on an angle
½ cup (125 mL) salted and roasted cashews, coarsely chopped
2 cups (500 mL) cooked jasmine rice (cook according to package instructions)
1 Preheat an oiled grill to high.

2 Sear beef on 1 side, about 2 minutes. Flip and begin to baste medallions with ⅓ cup (80 mL) hoisin sauce. Continue to baste on both sides and cook to desired doneness, preferably medium-rare. Let rest 5 minutes before slicing.

3 Arrange lettuce leaves, red pepper, carrot, green onions, cashews, rice and additional hoisin sauce in bowls for garnishing.

4 Slice beef very thinly and serve with other ingredients. To form a wrap, place desired ingredients on leaf, and drizzle or dip with extra sauce.
SHARE