Hickory-Smoked Pork Chop
Automne 2017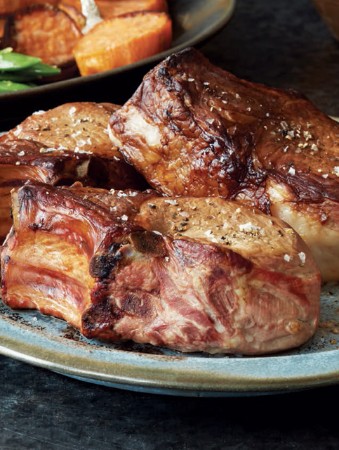 Hickory-Smoked Pork Chop
Automne 2017
BY: Tonia Wilson-Vuksanovic
Once the pork chops are on the grill they take very little work, but they have huge wow factor when presented to friends or family. The small amount of attention they need frees you up to prepare the side dishes.
4 cups (1 L) boiling water
3 cups (750 mL) hickory wood chips
4 rib-end pork chops, 2 bones attached, about 1¼ lbs (625 g) each and 2 inches (5 cm) thick
Salt and black pepper to taste
1. In a large bowl, pour 4 cups (1 L) boiling water over hickory chips, let soak for 20 minutes.

2. Season chops on both sides with a very generous amount of salt and freshly ground black pepper. Set aside at room temperature.

3. Remove grill from gas barbecue, turn all burners on high and close lid for 10 minutes to heat up.

4. Drain hickory chips and wrap in foil (double wrap if foil is thin). Allow for a small 2-inch (5-cm) opening at top of foil pack for smoke to escape.

5. Leaving one side burner on maximum, turn off all other burners. Using oven mitts, carefully place foil pack directly on working burner and place grill(s) back on barbecue. Close lid and wait 15 minutes until the chips begin to smoke.

6. When the chips are smoking, place the 4 chops on the side of the grill where the burners will cook with indirect heat (the side with burners turned off). Close the lid and adjust the working burner to a level that will allow the closed barbecue to retain a temperature of 300°F (150°C). Occasionally check that barbecue temperature has remained where it should.

7. Cook chops on one side for 30 minutes without moving them around. Flip chops and continue cooking on second side until golden and internal temperature near the bone reads 145°F (63°C) on a meat thermometer, about another 30 to 45 minutes depending on thickness of meat. When cooked, let rest 5 minutes before serving.

8. Serve with Roasted Sweet Potato with Miso Dressing and Gingered Snap Peas (recipes follow).

ROASTED SWEET POTATO WITH MISO DRESSING

There's no need to add salt to these simple, tasty potatoes before roasting as the miso will add all the seasoning you need.

¼ cup (60 mL) vegetable oil
1½ lbs (750 g) sweet potatoes, peeled and sliced into 1 inch (2.5 cm) rounds
1 tsp (5 mL) miso paste
1 tbsp (15 mL) boiling water
1. Preheat oven to 375°F (190°C).

2. Using a metal baking sheet with sides, add all the oil; add sweet potato and flip rounds to cover in oil.

3. Roast in oven for 20 minutes.

4. Using a metal spatula, carefully flip potato rounds over and return to oven. Continue cooking until tender and golden, about another 10 to 15 minutes.

5. While potatoes are roasting, soften miso with 1 tbsp (15 mL) boiling water. Stir with a fork to break up paste and set aside.

6. When potatoes are done, transfer them to a serving dish.

7. Carefully pour oil from baking sheet into the bowl with miso and whisk with a fork. Drizzle miso dressing over sweet potatoes and serve, or hold in warm oven until ready.

GINGERED SNAP PEAS

These bright green peas will add a nice bit of crunch and colour to the plate.

2 tsp (10 mL) vegetable oil
1 tsp (5 mL) finely chopped ginger
½ lb (250 g) sugar snap peas (snow peas will work as well), rinsed
2 tbsp (30 mL) water
Salt to taste
1. In a large skillet, heat oil over medium-high heat and cook ginger until softened, about 3 minutes. Add the peas and 2 tbsp (30 mL) water.

2. Continue to stir-fry until bright green and lightly cooked, about 4 minutes. Season with salt and serve.
SHARE