Hibiscus-Strawberry Shrub & Sweet Wine Soda
Early Summer 2019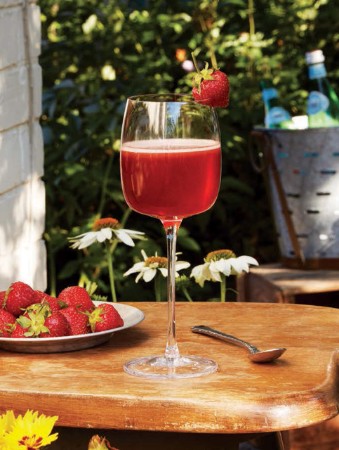 Hibiscus-Strawberry Shrub & Sweet Wine Soda
Early Summer 2019
BY: Victoria Walsh
Make hosting life easy by putting together a large pitcher of this summery cocktail. Use one batch of the shrub recipe and 20 oz of lateharvest Riesling. Next, simply add club soda to taste—you may need a little more or a little less. Serve in ice-filled glasses.
1 oz Hibiscus-Strawberry Shrub (recipe follows)
2 oz late-harvest Riesling, port or sherry, chilled
5 to 6 oz club soda, chilled
Hibiscus flower, for garnish (optional)
Strawberry, for garnish
1 Pour shrub and Riesling into a wine glass. Top with soda. Stir to mix. Garnish with hibiscus and strawberry.
Hibiscus-Strawberry Shrub
1 Place ¾ cup (175 mL) finely chopped strawberries in a resealable container. Sprinkle ½.cup (125 mL) granulated sugar overtop. Stir to mix. Cover and refrigerate at least 24 hours.

2 Scrape fruit and sugar mixture into a small saucepan. Add ⅔ cup (150 mL) red-wine vinegar and ½ cup (125 mL) water. Set over medium heat. Cook about 3 minutes or until gently simmering. Add a hibiscus tea bag. Gently simmer for 7 minutes.

3 Remove from heat. Cool completely and let stand, allowing flavours to infuse, about 3 hours. When flavours have infused nicely, remove tea bag. Using the back of a ladle, swirl and push through a sieve into a sterilized jar.
Makes approximately 1¼ cups (310 mL) shrub
SHARE