Herbed Salmon Burgers with Cucumber-Radish Slaw & Gribiche
Spring 2018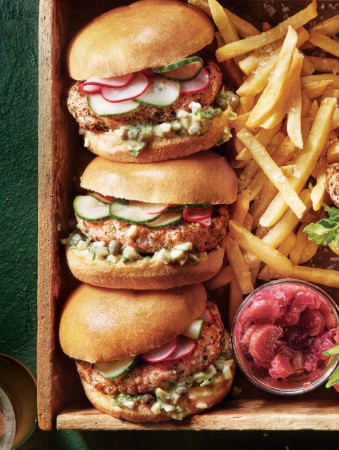 Herbed Salmon Burgers with Cucumber-Radish Slaw & Gribiche
Spring 2018
BY: Eric Vellend
Packed with fresh herbs, topped with crunchy slaw, and punched up with tangy gribiche, this is a fish burger of the highest order. If you don't have time for the accoutrements, just make the patties and serve them with lettuce, tomato and mayo—they're a good way to get kids to eat fish. A chunky, vinaigrette-style sauce, gribiche is also excellent with steamed asparagus, green beans or leeks, and cold chicken or fish.
PATTIES
1½ lbs (750 g) salmon fillet, skin removed
1 large egg, lightly beaten
¼ cup (60 mL) panko bread crumbs
¼ cup (60 mL) finely sliced chives
¼ cup (60 mL) chopped mixed herbs (parsley, tarragon and/or dill)
½ tsp (2 mL) salt
¼ tsp (1 mL) freshly ground pepper
Vegetable oil for forming

GRIBICHE
1 large hard-boiled egg, peeled
1 tbsp (15 mL) Dijon mustard
1 tbsp (15 mL) white wine vinegar
3 tbsp (45 mL) extra virgin olive oil
1 tbsp (15 mL) small capers, rinsed, patted dry
2 cornichons, finely chopped
1 tbsp (15 mL) finely chopped tarragon
1 tbsp (15 mL) finely sliced chives
Salt and freshly ground pepper to taste

CUCUMBER-RADISH SLAW
1 tbsp (15 mL) granulated sugar
2 tbsp (30 mL) white wine vinegar
1 piece English cucumber, 4 inches (10 cm)
2 radishes
Salt to taste
1 tsp (5 mL) extra virgin olive oil
4 brioche or egg buns
1. For the patties, cut salmon into 1-inch (2.5-cm) chunks. Place in a food processor. Pulse until coarsely chopped and clumping together— it will take seconds. (Don't over-mix or the cooked patty will be rubbery.) In a mixing bowl, combine salmon, egg, panko, chives, herbs, salt and pepper. Mix thoroughly. Using well-oiled hands, divide into 4 even balls. Form balls into patties to fit buns. Cover and refrigerate at least 3 hours and up to 1 day.

2. For the gribiche, separate egg yolk and white. Finely chop white and set aside. Place egg yolk in a small mixing bowl with mustard and vinegar. Mash yolk with fork then whisk until smooth. Slowly drizzle oil while whisking to form emulsified dressing. Fold in capers, cornichons, herbs and egg white. Season with salt and pepper. Cover and refrigerate up to 1 day.

3. For the cucumber-radish slaw, whisk sugar and vinegar in a mixing bowl until sugar is dissolved. Thinly slice cucumber and radishes on mandoline. Add to bowl and season generously with salt. Mix thoroughly. Cover and refrigerate 1 hour. Drain mixture and stir in olive oil. Cover and refrigerate up to 4 hours.

4. Preheat grill to medium-high.

5. Clean and oil barbecue grate. Grill patties until just cooked through, 3 to 4 minutes per side.

6. Smear bun bottoms with gribiche. Top with patties. Top patties with some cucumber-radish slaw. Cover with bun tops. Serve immediately.
SHARE