Harvest Nachos with Squash, Brussels Sprouts & Smoked Cheddar
Autumn 2020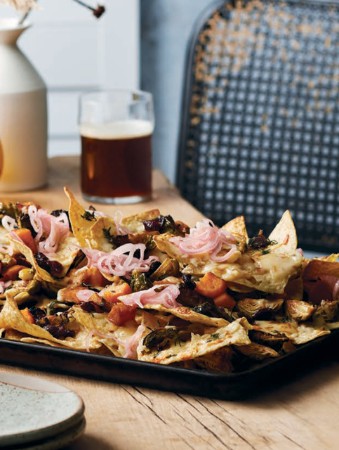 Harvest Nachos with Squash, Brussels Sprouts & Smoked Cheddar
Autumn 2020
BY: Eric Vellend
Breaking out of its Tex-Mex shackles, Harvest Nachos finds crunchy tortilla chips baked under a bed of two cheeses, roasted fall veggies, dried cranberries and fresh thyme. If you cut the vegetables and grate the cheeses ahead of time, the whole dish comes together in under an hour. It is important to layer nachos so the last bite is as good as the first.
3 cups (750 mL) diced butternut squash, cut into ¾-inch (2-cm) cubes
1 lb (455 g) Brussels sprouts, trimmed, quartered through core
2 tbsp (30 mL) canola oil
Salt and freshly ground pepper to taste
2 tbsp (30 mL) red wine vinegar
2 tbsp (30 mL) water
2 tsp (10 mL) sugar
1 large shallot, thinly sliced into rings
1 lb (455 g) sturdy tortilla chips
½ lb (225 g) smoked cheddar, grated
½ lb (225 g) Swiss melting cheese (Emmenthal, Appenzeller, Gruyère), grated
½ cup (125 mL) dried cranberries
3 tbsp (45 mL) fresh thyme leaves
Lemon wedges for serving
1 Preheat oven to 450°F (230°F).
2 In a large mixing bowl, combine squash, Brussels sprouts, oil, salt and pepper. Mix thoroughly and transfer to a heavy-duty baking
sheet lined with parchment paper. Bake on lower rack, stirring twice, until browned and soft, about 25 minutes. Remove from oven.
3 Lower temperature to 350°F (180°F).
4 While the vegetables are roasting, whisk vinegar, water, sugar and a pinch of salt in small bowl until sugar is dissolved. Stir in shallot. Set aside, stirring occasionally.
5 Line a heavy-duty rimmed baking sheet with foil. Spread out half the chips and sprinkle with half the cheese, half of the roasted vegetables, cranberries and thyme. Repeat with a second layer using up remaining half of chips, cheese and toppings. Bake until cheeses are melted and nachos are hot, 15 to 20 minutes.
6 Remove from oven. Drain shallots and sprinkle over nachos. Serve immediately with lemon wedges.
SHARE