Green Goddess Summer Salad
Early Summer 2019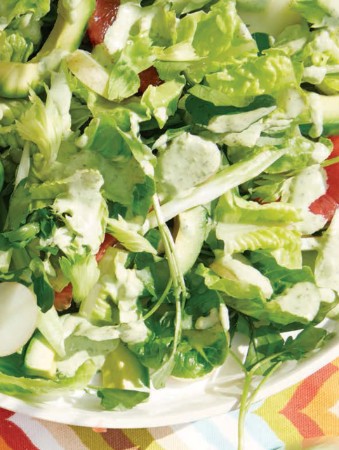 Green Goddess Summer Salad
Early Summer 2019
BY: Christopher St. Onge
I like to replace the anchovies in green goddess dressing with Asian fish sauce—it's a little less forward, resulting in a dressing where all the herbs really shine. The dressing can be made two days in advance, but it's best to wait to compose and dress the salad until just before serving.
GREEN GODDESS DRESSING
½ cup (125 mL) good-quality mayonnaise
½ cup (125 mL) sour cream
1 tbsp (15 mL) fish sauce
2 tsp (10 mL) white wine vinegar
2 green onions, chopped
1 clove garlic
¼ cup (60 mL) chopped parsley
¼ cup (60 mL) chopped chives
2 tbsp (30 mL) chopped tarragon
Salt and freshly ground black pepper to taste

3 fingerling or 5 mini potatoes
1 large pink or red grapefruit
4 heads Little Gem lettuce, chopped
1 mini cucumber, sliced
1 stalk of celery, thinly sliced on a bias
1 bunch watercress trimmed of thick stems
1 medium ripe avocado
1 To make the green goddess dressing, simply combine all but the salt and pepper in a blender and purée; season to taste. Cover and refrigerate until ready to use.

2 Boil the potatoes in enough salted water to cover for 15 to 18 minutes or until fork-tender; let cool then slice into ¼-inch (5-mm) coins. Set aside.

3 Using a sharp knife, trim grapefruit of both ends; remove peel and pith. Cut between membranes to remove sections; dice flesh and reserve.

4 Add lettuce, cucumber, celery and watercress to a large serving platter; top with potato and grapefruit. Pit, peel and quarter the avocado; thinly slice and arrange over salad. Drizzle with half the dressing and serve extra dressing alongside.
SHARE