Greek Yogurt and Kale Pesto Dip
Temps des Fêtes 2019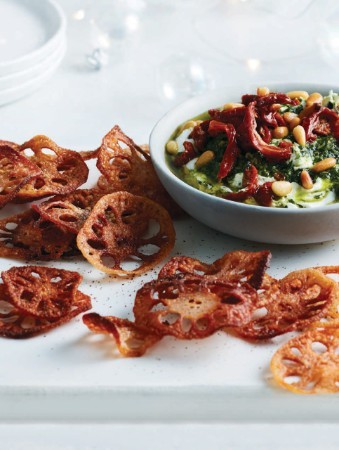 Greek Yogurt and Kale Pesto Dip
Temps des Fêtes 2019
BY: Irene Matys
This creamy yogurt dip is full of flavour. Making pesto with fresh in-season winter greens like kale is a nutrition powerhouse. Garnishing it with sun-dried tomatoes and pine nuts gives it a beautiful holiday look and an added crunchy texture.
¼ cup plus 1 tbsp (60 mL plus 15 mL) pine nuts
KALE PESTO
3 cups (750 mL) baby kale leaves
1 large garlic clove, roughly chopped
¼ cup (60 mL) grated Parmesan cheese
½ cup (125 mL) olive oil
½ tsp (2 mL) salt
½ tsp (2 mL) fresh ground pepper
1¼ cups (310 mL) Greek yogurt
2 tbsp (30 mL) julienned sun-dried tomatoes in their oil
1 For the toasted pine nuts, heat a medium skillet over medium-high heat. Add pine nuts and cook for 2 to 3 minutes until golden, stirring occasionally to brown evenly and avoid burning. Remove from heat and set aside to slightly cool.
2 In a food processor, add kale, garlic, Parmesan cheese, ¼ cup (60 mL) toasted pine nuts and pulse until finely chopped. Scrape down the sides and run the food processor, slowly adding the olive oil in a steady small stream. Season with salt and pepper.
3 Place yogurt in a serving bowl and mix in kale pesto, reserving 2 tbsp (30 mL). Garnish top of dip with reserved pesto, sun-dried tomatoes and remaining 1 tbsp (15 mL) toasted pine nuts. Serve with crispy Smoked Sea Salt Lotus Chips (recipe below).
Smoked Sea Salt Lotus Chips
Lotus root is a popular root vegetable in Asian cuisine and is available year round. It is nutritious with large amounts of vitamins and minerals that include vitamin B, vitamin C, iron, potassium, copper, thiamine and zinc. It is also a good source of protein and dietary fibre. Lotus root makes perfect dipping chips for thick dips as they bake up very crispy. The addition of smoked sea salt gives these chips an aromatic subtle flavour that make them delicious for dipping or on their own.
2 large lotus roots, about 2 lbs 2 oz (960 g), peeled
3 tbsp (45 mL) extra virgin olive oil
1 tsp (5 mL) smoked sea salt
1 Preheat oven to 350 F (180 C). Line a large baking sheet with parchment paper.
2 Slice lotus roots into rounds ⅛ inch (3 mm) thick. Place them in a large bowl and toss with olive oil to coat well.
3 Spread evenly in a single layer on baking sheet, ensuring they do not overlap. You can divide them on 2 baking sheets if necessary. Bake in oven for 20 to 25 minutes until golden and crispy. Ensure you check them, as they brown and crisp rapidly. Remove crispy ones and place them on a dish lined with paper towel to absorb oil. Repeat with remaining chips until they are all done.
4 Toss lotus chips with smoked sea salt and serve warm or at room temperature with dip.
SHARE