Greek Chicken Soup
Hiver 2016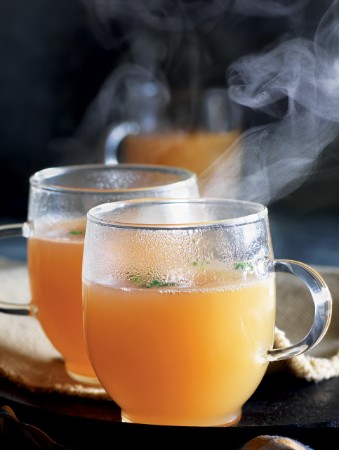 Greek Chicken Soup
Hiver 2016
BY: Lucy Waverman
Dill, garlic and lemon chicken soup is a refreshing change in the dead of winter. Add a couple of tablespoons (30 mL) of dill and 1 clove crushed garlic to about 6 cups (1.5 L) of Chicken Stock (recipe follows). Bring to boil and drizzle in 2 beaten eggs. Season with salt, pepper and dill. Add 1 tablespoon (15 mL) lemon juice or to taste. Dust with grated Parmesan.
CHICKEN STOCK

For chicken stock use chicken backs and necks and add a few wings or legs thrown in for extra flavour. Freeze any uncooked necks or bones from chickens you buy for other dishes for up to 6 months and toss them into your stock. Because chicken stock is a light colour, don't brown the bones. The light colour in a sauce complements light meats. Chicken stock can be made with a cooked chicken carcass. It will be a darker colour because the bones are cooked, but it will be full of flavour.

4 lbs (2 kg) chicken backs and necks
2 large chicken legs, about 1¼ lbs (625 g)
1 large onion, unpeeled, quartered
2 carrots, cut in chunks
2 stalks celery, cut in thirds
4 cloves unpeeled garlic
1 leek, green portion only, halved (optional)
6 mushroom stalks (optional)
1 Place the chicken pieces in a large stockpot. Add enough cold water to cover the bones and legs by 1 inch (2.5 cm), about 14 to 16 cups (3.5 to 4 L) in total. Bring to a boil on high heat. With a slotted spoon or fine mesh sieve, skim the foam from the top.

2 Add remaining ingredients and return to a boil. Reduce heat and simmer for 45 minutes. Remove chicken legs and separate meat from bones. Return bones to pot and reserve meat for another use. Continue simmering stock for 3 more hours, or until flavours have intensified.

3 Cool the stock and strain into a large bowl. Cover and refrigerate.
Makes about 12 cups (3 L)
SHARE