Grapefruit & Rosé Spritzer
Early Summer 2019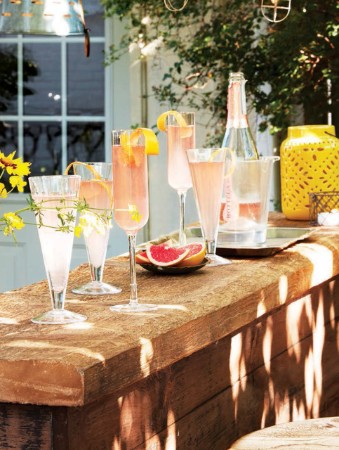 Grapefruit & Rosé Spritzer
Early Summer 2019
BY: Victoria Walsh
Join in on the spritzer revival with this rosé spin. If you prefer a drier (less sweet) cocktail, skip the Simple Syrup entirely.
4 oz rosé sparkling wine, chilled
2 oz seltzer or sparkling water, chilled
1 small pink grapefruit
½ oz Simple Syrup, optional 
1 Pour rosé and seltzer into a Champagne flute. Pull a long strip of peel from grapefruit. Squeeze and measure out 1½ oz grapefruit juice. Slowly add to Champagne flute. Taste and add Simple Syrup, if you like. Pinch peel over glass, spritzing the top of the cocktail. Rub around the exterior rim of the glass. Twist and add to glass.
Simple Syrup
Bring 1 cup (250 mL) water to a boil in a small saucepan. Add 1 cup (250 mL) granulated sugar. Stir until dissolved. Remove from heat. Let cool completely. Syrup will keep stored in a resealable container in the fridge for at least 2 weeks.
Makes 1½ cups (375 mL) syrup
SHARE