Gin & Tonic Bundt Cake
Early Summer 2018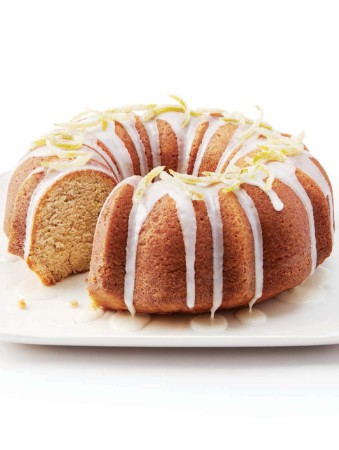 Gin & Tonic Bundt Cake
Early Summer 2018
BY: Julia Aitken
Make sure to measure the flour for this moist cake using the spoon-and-sweep method (spoon the flour into the measuring cup until it heaps above the rim, then sweep a knife across the cup to level the flour), rather than scooping the flour directly from the container. It's worth buying new juniper berries rather than using any languishing in your cupboard where they quickly lose their distinctive flavour.
CAKE
Softened unsalted butter and all-purpose flour for coating pan
4 tsp (20 mL) dried juniper berries
2 cups (500 mL) granulated sugar, divided
1 cup (250 mL) unsalted butter, softened
3 cups (750 mL) all-purpose flour
2 tsp (10 mL) ground cardamom
½ tsp (2 mL) baking soda
½ tsp (2 mL) table salt
4 large eggs, at room temperature
4 tsp (20 mL) finely grated lime zest (about 3 large limes)
1 tsp (5 mL) vanilla
1 cup (250 mL) buttermilk (shake carton well before measuring)
2 tbsp (30 mL) gin

G&T SYRUP
1 tbsp (15 mL) juniper berries
½ cup (125 mL) granulated sugar
½ cup (125 mL) tonic water
2 tbsp (30 mL) gin

GIN & LIME GLAZE
1½ cups (375 mL) icing sugar
1 tbsp (15 mL) lime juice, approx.
1 tbsp (15 mL) gin, approx.
1 tsp (5 mL) white corn syrup
Pinch of table salt
Candied Lime Rind (recipe follows) or finely grated lime zest for garnish
1. Preheat oven to 325°F (160°C).

2. For cake, generously butter a 10-inch (3 L) Bundt pan. Tip a little flour into pan, then tilt pan to completely coat insides with flour. Tap to tip out excess flour, then set pan aside.

3. In a small skillet, toast juniper berries over medium heat until plump, glossy and fragrant, about 2 minutes. Remove from heat and let cool completely.

4. In a spice grinder, combine toasted juniper berries and 1 tbsp (15 mL) sugar. Grind until mixture is reduced to a fine powder (this can take a couple of minutes).

5. In the bowl of a stand mixer (or in a large bowl and using a hand-held electric mixer), beat together juniper mixture, remaining sugar and butter until light and fluffy.

6. Meanwhile, in a medium bowl, whisk together flour, cardamom, baking soda and salt, then set aside.

7. Beat eggs into sugar mixture, 1 at a time, beating well after each addition and scraping down sides of bowl if necessary. Beat in lime zest, then beat in vanilla.

8. With a rubber spatula or large metal spoon, fold flour mixture into sugar mixture alternately with buttermilk, making 3 additions of flour and 2 of buttermilk, until no streaks of flour remain. Fold in gin (batter may look curdled, but don't worry).

9. Scrape batter into prepared pan and smooth top level. Bake until a slim skewer inserted in centre of cake comes out clean and cake starts to pull away from sides of pan, 65 to 75 minutes.

10. Remove cake from oven. Run a small spatula around edge of pan and around centre post. Put pan on wire rack and let cake cool in pan for 10 minutes.

11. While cake is cooling, prepare G&T syrup. Crush juniper berries in a mortar and pestle, then tip into a small saucepan. Add sugar and tonic water to saucepan and bring to a boil over medium-high heat, stirring to dissolve sugar. Let mixture bubble until liquid has reduced by half, about 5 minutes. Remove from heat; strain through a fine sieve into a small pitcher, discarding juniper berries. Stir in gin.

12. After cake has cooled for 10 minutes, turn it out of pan onto a wire rack set over a rimmed baking sheet. With a slim skewer, make deep holes all over top of cake.

13. Very gradually drizzle hot G&T syrup over cake, letting cake absorb syrup before adding more. Let cake cool completely on wire rack.

14. For gin and lime glaze, sift icing sugar into a medium bowl. In a small bowl, stir together 1 tbsp (15 mL) lime juice, 1 tbsp (15 mL) gin, corn syrup and salt. Gradually whisk lime juice mixture into icing sugar until glaze is smooth. If glaze is too thick to drizzle, whisk in a little more lime juice or gin, according to taste.

15. Either leave cake on wire rack over baking sheet or carefully transfer it to a serving plate. If moving to a serving plate, place strips of parchment paper under cake all way round to prevent glaze from dripping onto plate, if desired. Gradually drizzle glaze evenly over cake, letting excess dribble down sides.

16. Arrange Candied Lime Rind decoratively on top of glaze, or sprinkle with grated lime zest. Set cake aside at room temperature until glaze has set, at least 1 hour. Either carefully transfer cake to a serving plate, or remove parchment paper. Cut cake into slices to serve.
Makes one 10-inch (30-cm) cake, 16 to 20 slices
CANDIED LIME RIND

You can use this method to candy any citrus rind for a tangy garnish for cakes and pastries. The candied zest will keep for several weeks in an airtight container at room temperature.

1 lime
1 cup (250 mL) granulated sugar, divided
⅓ cup (80 mL) water
1. Trim ends from lime, then cut lime lengthwise into 8 wedges. With a small, very sharp knife, cut away and discard flesh and as much white pith as possible from each wedge, until inside of rind looks green. Cut each piece of rind lengthwise into very thin strips.

2. Put strips of lime rind in a small saucepan and add enough cold water to cover. Bring to a boil over high heat, then boil, uncovered, for 5 minutes. Drain well.

3. Return rind to saucepan and cover again with cold water. Bring to a boil, then boil for 5 minutes. Drain well. Repeat this process once again, for a total of 3 times. Set rind aside.

4. In same saucepan, combine ½ cup (125 mL) sugar and ⅓ cup (80 mL) water and stir over medium-high heat until sugar dissolves. Bring to a boil. Add lime rind and reduce heat to medium-low. Simmer, uncovered, stirring occasionally, until rind is translucent, about 40 minutes. As liquid reduces, lower heat further to maintain a gentle bubble.

5. Meanwhile, spread out remaining sugar in a large shallow dish. Line a large baking sheet with parchment paper.

6. Drain lime rind through a fine sieve. Using 2 forks and working quickly, transfer a few pieces of lime rind to sugar in dish. Use forks to toss lime rind, coating each piece completely with sugar. Transfer to prepared baking sheet, spreading out pieces of lime rind so they don't touch. Repeat with remaining lime rind. Let lime rind dry at room temperature, at least 2 hours (on a humid day, rind will take longer to dry).
Makes about ½ cup (125 mL)
SHARE