Garlicky Chicken Livers
Autumn 2019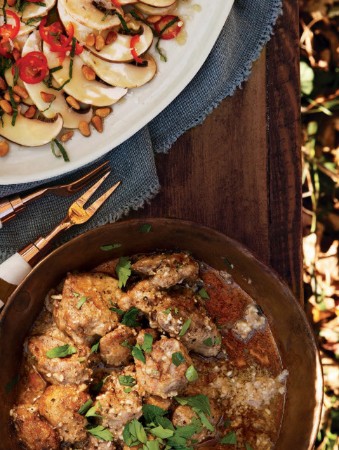 Garlicky Chicken Livers
Autumn 2019
BY: Christopher St. Onge
Hands down one of my favourite appetizers, these easy chicken livers are the perfect bite to get things started. Because butter features prominently in the recipe, choose the best. Stirling Creamery, Emerald Grasslands and Rolling Meadow all make premium, delicious local butters. Serve the livers family style in the pan they were cooked in, along with ­cocktail forks and some good crusty bread.
1 lb (455 g) chicken livers
¼ cup (60 mL) all-purpose flour
¼ tsp (1 mL) cayenne
Salt and freshly ground black pepper
5 tbsp (75 mL) unsalted butter, divided
4 cloves garlic, finely chopped
⅓ cup (80 mL) white wine
1 tbsp (15 mL) lemon juice
2 tbsp (30 mL) chopped parsley
 1 Wash chicken livers under cool running water, drain and pat dry. Trim livers of any yellowish bits and, working with one at a time, lay liver flat on a cutting board. Pull or cut out the connective tissue between lobes. Repeat with remaining livers.
2 Combine flour and cayenne in a small bowl; season with salt and pepper. Add livers and toss to coat. Remove livers, shaking off excess flour.
3 Melt 2 tbsp (30 mL) butter in a medium skillet over medium-high heat. Once foaming, add livers in a single layer and cook 2 minutes per side or until browned. Remove to a bowl and set aside.
4 Melt another 1 tbsp (15 mL) butter in skillet; add garlic and cook until fragrant, about 30 seconds. Pour wine over and reduce by half. Stir in lemon juice and return chicken livers to pan. Cook for an additional minute and remove from heat.
5 Cut remaining 2 tbsp (30 mL) butter into 4 pieces and stir into livers until melted. Sprinkle with parsley and give the livers a few grindings of coarsely ground black pepper. Serve hot.
SHARE