Frozen Paloma
Early Summer 2020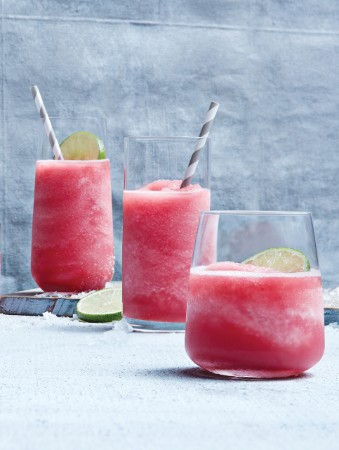 Frozen Paloma
Early Summer 2020
BY: Eric Vellend
Turning Mexico's beloved Highball on its head, this frozen drink brings the winning combination of tequila and grapefruit to a blender near you. For an affordable 100-percent agave tequila, try Jose Cuervo Tradicional Plata.
4 oz 100% agave blanco tequila
6 oz fresh pink grapefruit juice, divided
4 oz grapefruit soda, preferably Ting
1 oz Grenadine (recipe follows)
¾ oz lime juice
Lime wheels to garnish


1 Pour tequila, 4 oz grapefruit juice, grapefruit soda, Grenadine and lime juice into an airtight container. Freeze overnight and up to 3 days.

2 Place two 8-oz glasses in freezer for at least 30 minutes.

3 Scrape drink mixture into blender and add remaining 2 oz grapefruit juice. Blend until smooth, stopping and scraping down bowl if necessary. Divide among chilled glasses with a spoon. Garnish with lime wheels and serve immediately with straws (preferably reusable or biodegradable, but avoid metal).


SHARE