Fried Chicken with Sriracha Maple Syrup
Printemps 2018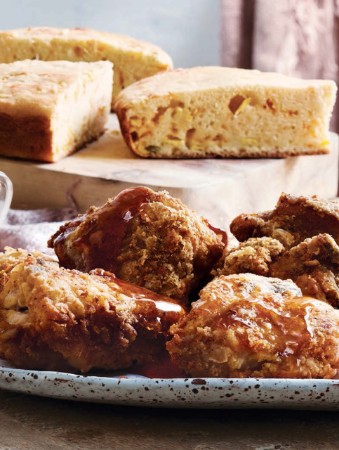 Fried Chicken with Sriracha Maple Syrup
Printemps 2018
BY: Amy Rosen
Hot from the frying pan, if you've ever wanted to know the secret to great fried chicken, it boils down to a few simple ingredients used properly—and a drizzle of sriracha maple syrup on top.
1 cup (250 mL) all-purpose flour
¼ cup (60 mL) matzoh meal
1 tsp (5 mL) salt
½ tsp (2 mL) freshly cracked black pepper
½ tsp (2 mL) garlic powder
½ tsp (2 mL) cayenne
1 frying chicken, 3 lbs (1.5 kg) cut up (or use your favourite chicken parts)

SRIRACHA MAPLE SYRUP
½ cup (125 mL) pure maple syrup
3 tbsp (45 mL) sriracha sauce
½ cup (125 mL) vegetable shortening such as Crisco
1. Combine flour, matzoh meal, salt, pepper, garlic powder and cayenne in large plastic bag or paper bag. Add a few pieces of rinsed and slightly damp chicken at a time and shake to coat. Let sit on parchment paper for 15 minutes.

2. Combine maple syrup with sriracha sauce. Set aside. (May be warmed just before serving.)

3. Heat shortening to 365°F (185°C) (medium-high heat) in large cast-iron skillet. Fry chicken 25 to 35 minutes without lowering heat, turning once or twice for even browning. You may have to do this in 2 batches so as not to overcrowd the pan. Internal temperature should be 165°F (74°C). Drain on paper towel. Sprinkle with a pinch more salt if desired. Serve chicken with wedges of cornbread. Drizzle with warm sriracha maple syrup.
SHARE