Fresh Tomato, Olive & Lemon Pasta
Début de l'été 2016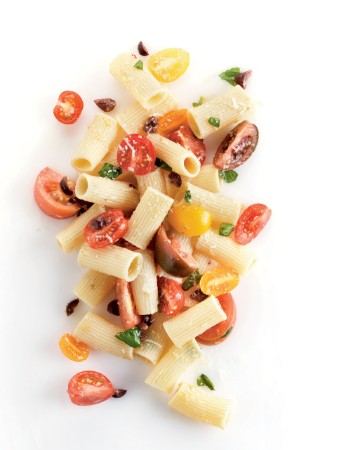 Fresh Tomato, Olive & Lemon Pasta
Début de l'été 2016
BY: Tonia Wilson-Vuksanovic
Don't be afraid of the anchovy paste in this recipe; it is essential in making the dish taste delicious, but you don't actually taste it. Round out the pasta meal with a big green salad and a plate with cured salami and prosciutto.
2½ lbs (1.25 kg) fresh tomatoes, in a variety of colours, shapes
1 tbsp (15 mL) garlic, finely chopped
2 tsp (10 mL) anchovy paste
½ cup (125 mL) olive oil
Zest of 2 lemons, grated finely with a rasp
2 tbsp (30 L) fresh lemon juice
¼ tsp (1 mL) chili flakes
¼ tsp (1 mL) salt
⅔ cup (150 mL) Kalamata olives, pitted and coarsely chopped
½ cup (125 mL) fresh basil leaves, coarsely torn
½ cup (125 mL) good quality Parmigiano‑Reggiano cheese, finely grated
1 lb (500 g) rigatoni pasta
1 Cut larger tomatoes into quarters and slice cherry varieties in half lengthwise. Place in a large bowl.

2 In a blender, purée garlic, anchovy paste, ⅓ cup (80 mL) of the olive oil, lemon juice (before juicing, grate the zest), chili flakes and salt. Add mixture together with tomatoes, olives, lemon zest, basil and cheese. Leave at room temperature to marinate.

3 Just before serving, bring a large pot of well-salted water to the boil.

4 Boil the pasta to al dente. When pasta is ready, reserve ½ cup (125 mL) cooking water, strain the pasta, and do not rinse. Place pasta back in the pot (not on the heat) along with tomato mixture. Stir well to combine along with remaining olive oil and a small amount of cooking water if needed.

5 Serve immediately.
SHARE