Fresh Cranberry Relish
Holiday 2019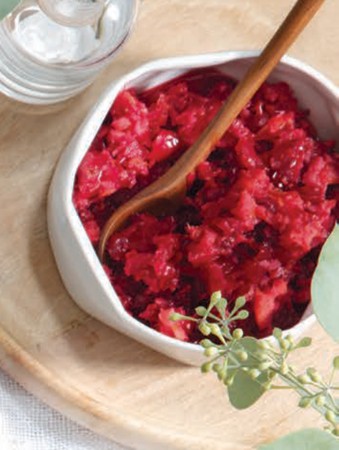 Fresh Cranberry Relish
Holiday 2019
BY: Monda Rosenberg
Both of Chef Ryan's grandmothers were fantastic cooks—one savoury and one sweet. This tangy relish is one of theirs. It's an essential with the family's turkey sandwiches on Boxing Day.
2 cups (500 mL) fresh or frozen whole cranberries
½ orange
½ lemon (optional)
1 tbsp (15 mL) chopped fresh peeled ginger
2 tbsp (30 mL) granulated sugar
¼ tsp (1 mL) kosher salt
¼ tsp (1 mL) chili flakes (optional)
Grated orange peel for garnish (optional)
1 If using frozen cranberries, thaw in fridge and drain well. Rinse orange and lemon, if using, and pat dry. Cut the half orange and half lemon, including skin, into several pieces, discarding seeds. Place in a food processor. Add ginger. Pulse, then whirl until coarsely chopped.
2 Add cranberries, sugar, salt and chili flakes (if using). Pulse, scraping down sides often, until it reaches the texture of a rough salsa with chunks of cranberries still showing. Do not purée. Taste. There should be a good balance of sweet and tart; add more sugar if needed. If it is thicker than you like, whirl in water, 1 tbsp (15 mL) at a time. Serve right away or cover and refrigerate up to 2 days. Relish will water out a little as it sits, so drain before serving. Garnish with grated orange peel, if desired.
Makes 2 1/4 cups (560 mL)
SHARE