French Onion Macaroni & Cheese
Holiday 2017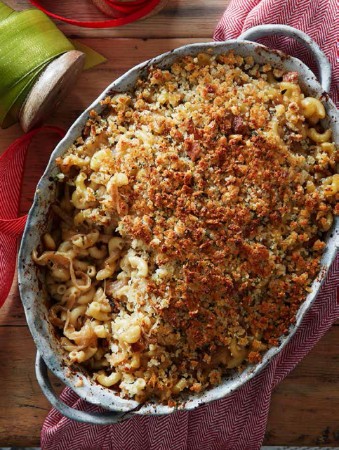 French Onion Macaroni & Cheese
Holiday 2017
BY: Michelle Rabin
Have you ever met a mac and cheese you didn't like? This one fuses two Canadian favourites: French onion soup and classic mac and cheese. Caramelized onions and Gruyère cheese form a rich, overly indulgent sauce; then, to top it off, the dish gets crisped up in the oven with buttery bread crumbs. It's the perfect no-fuss, family-style dish for cold, blustery nights.
If you're taking this dish to a party, make the sauce, cook the noodles and make the buttery bread crumbs in advance. When ready to serve, slowly warm up the sauce, stir in the noodles, top with bread crumbs and your dish is done!
¼ cup (60 mL) butter, divided
4 large onions, peeled and thinly sliced
1 tsp (5 mL) salt
3 cups (750 mL) dry macaroni
⅓ cup (80 mL) brandy
2 tbsp (30 mL) flour
2¼ cups (560 mL) beef stock
5 tsp (25 mL) thyme leaves, divided
1 tbsp (15 mL) grainy Dijon mustard
2 cups (500 mL) grated Gruyère cheese
1 cup (250 mL) bread crumbs
½ cup (125 mL) grated Parmesan cheese
1 Heat 1 tbsp (15 mL) of butter in a large skillet over medium heat. Add onions and salt and stir using a wooden spoon. Decrease heat to medium-low and continue to cook until onions are very tender and brown, about 25 minutes, stirring often.
2 Meanwhile, cook macaroni according to package directions until al dente. Strain and set aside.
3 Increase heat to medium-high on onions and add brandy. Stir until all liquid has been absorbed by the onions, about 2 minutes. Sprinkle flour over the onions and stir. Pour in beef stock then add half the thyme and all the Dijon mustard. Stir to combine. Let mixture come to a quick boil, then reduce heat to medium and simmer.
4 Stir in Gruyère cheese and continue to cook. Once cheese has melted and sauce has formed, fold in macaroni. Stir until fully incorporated. Transfer mixture to a large baking dish.
5 Melt the remaining butter. In a medium bowl mix melted butter, bread crumbs, remaining thyme and Parmesan cheese. Sprinkle on top of macaroni and cheese.
6 Broil in the oven, watching carefully that the bread crumbs don't burn, about 2 minutes. Remove from oven and serve.
SHARE