Four-Cheese Chicken, Kale & Sweet Potato Cobblers
Holiday 2015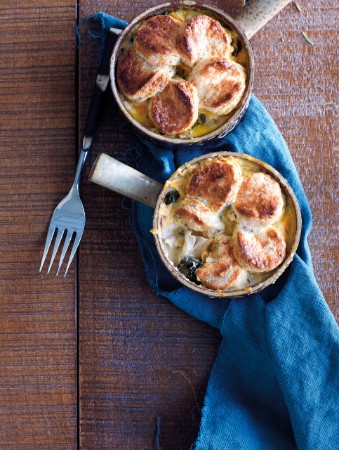 Four-Cheese Chicken, Kale & Sweet Potato Cobblers
Holiday 2015
BY: Signe Langford
We take cozy chicken and biscuits over the top with a creamy sauce and four kinds of cheese. Make this casual dish with a rotisserie chicken or turkey leftovers, or start by poaching a chicken—you'll have a delicious soup stock. For a veggie version, switch out the chicken for veggie mock "chicken" or a combination of boiled baby potatoes, chickpeas and cubes of firm tofu, make the biscuits all-butter, and use veggie broth. For a family-style dinner, the recipe can be made in one large casserole dish.
1 small chicken, about 3 lbs (1.5 kg), cooked
5 cups (1.25 L) finely chopped kale leaves and thin ribs
2 medium sweet potatoes, peeled and grated, about 3½ cups (875 mL)
2 tbsp (30 mL) butter
Freshly ground black pepper to taste
2 tbsp (30 mL) all-purpose flour
1 tbsp (15 mL) medium-sweet sherry
1/3 cup (80 mL) dry white wine
½ tsp (2 mL) dry mustard (mustard powder)
½ cup (125 mL) chicken broth
2/3 cup (150 mL) whole milk
2/3 cup (150 mL) 35% (whipping) cream
½ cup (125 mL) soft goat cheese (chèvre)
1 cup (250 mL) grated mozzarella cheese
1 cup (250 mL) grated old cheddar cheese Sea salt to taste Melted butter or olive oil for brushing
1. Pull chicken meat from the bones, coarsely chop or shred, add to a very large bowl and set aside. Don't include the skin; it would become rubbery in the sauce.

2. Very lightly butter or use nonstick spray to coat 6 onion soup bowls or another type of ovenproof individual casserole dish; set aside on a large baking sheet.

3. Add the kale and grated sweet potato to the chicken. Set aside while you make the cheese sauce.

4. In a large, heavy-bottom pot over medium-low heat, melt butter, grind in the pepper and whisk in the flour.

5. Reduce heat to low and continue to whisk; cook until the flour turns a nutty brown, about 4 to 5 minutes.

6. Add the sherry and wine, and whisk until smooth; whisk in the mustard powder, breaking any lumps.

7. Gradually pour in chicken broth, milk and cream, whisking constantly to break up any lumps and avoid burning. Don't panic if the flour mixture seizes up when you first add the liquid; it will soon become smooth and runny again. Just keep adding the liquid and whisking.

8. Add the goat cheese and whisk until melted and blended.

9. With a wooden spoon, add the mozzarella and cheddar, and stir until melted and combined.

10. Raise the heat back up to medium-low and keep stirring until the cheese sauce bubbles. Remove from heat.

11. While the sauce is hot, pour it over the kale, sweet potato and chicken mixture, and stir to combine; everything should be well coated. Taste and adjust for salt. Divide this mixture between the individual dishes.

12. Pre-heat oven to 375°F (190°C).

13. Top with the Herbed Parmesan Biscuit Topping (recipe follows) and bake for 35 to 45 minutes or until golden on top and bubbling hot. As soon as out of the oven, brush the tops with a little melted butter or olive oil and serve.


Herbed Parmesan Biscuit Topping

2 cups (500 mL) all-purpose flour
4 tsp (20 mL) baking powder
½ tsp (2 mL) sea salt
¼ tsp (1 mL) black pepper or more to taste
½ tsp (2 mL) dried thyme
½ tsp (2 mL) dried sage
½ tsp (2 mL) dried rosemary
¼ cup (60 mL) butter
¼ cup (60 mL) lard
2/3 cup (150 mL) whole milk
1/3 cup (80 mL) grated parmesan cheese
1 In a large bowl, combine flour, baking powder, salt, pepper, and dried herbs.

2 Add the butter and lard (or your fat of choice) and using a pastry cutter or 2 dinner knives, cut until dough is crumbly pea-sized bits.

3 Add the milk and parmesan and stir with a wooden spoon or dinner fork.

4 Tip out loose, crumbly dough onto a lightly floured counter and knead dough for about 3 minutes.

5 Pat or roll out dough to about ¼-inch (5‑mm) thickness. Here is where you can get creative; either cut out shapes to lay on top of the chicken filling or pull off pieces of dough for a rustic look. The dough can be layered and overlapped a bit.
SHARE