Focaccia Bruschetta With Roasted Red Pepper & Bocconcini
Winter 2009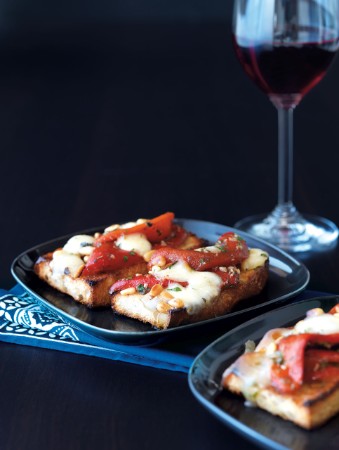 Focaccia Bruschetta With Roasted Red Pepper & Bocconcini
Winter 2009
BY: Marilyn Bentz-Crowley
Warm, substantial nibbles with drinks add to fireside relaxation. Fresh basil is an indulgence as is focaccia, and combined they make these toasts quite memorable. The focaccia pieces should be sliced ¾ inch (2 cm) thick and about 4 inches (10 cm) long.
Topping
3 large sweet red peppers
¼ cup (50 mL) chopped fresh basil
1 tbsp (15 mL) olive oil
1 tsp (5 mL) balsamic vinegar
1 large clove garlic, minced
2 tsp (10 mL) dry leaf oregano
½ tsp (2 mL) salt
¼ tsp (1 mL) freshly ground black pepper
5 oz (150 g) bocconcini
2 tbsp (15 mL) toasted pine nuts

Bruschetta
12 to 16 slices focaccia
2 tbsp (25 mL) olive oil
1. Roast peppers under broiler, turning frequently until skins are bubbling and blackened in places. Cool; then peel and seed. Slice peppers into strips; place in a bol. Stir in basil, oil, vinegar, garlic, oregano, salt and pepper until well mixed.

2. Dice cheese; there should be about 1 cup (250 mL). Stir cheese and pine nuts into red pepper mixture. (If making ahead, cover and refrigerate for up to a day.)

3. When ready to serve, preheat broiler. Rub focaccia on both cut sides with olive oil. Toast each side 2 to 3 minutes or until browned. Top each slice with some of pepper mixture, pressing gently to secure atop focaccia.

4. Return to broiler for 2 to 3 minutes or until topping is hot and cheese is melted. Transfer to a warmed serving platter; serve immediately.
SHARE