Fish Burger with Lemon Aïoli
Summer 2008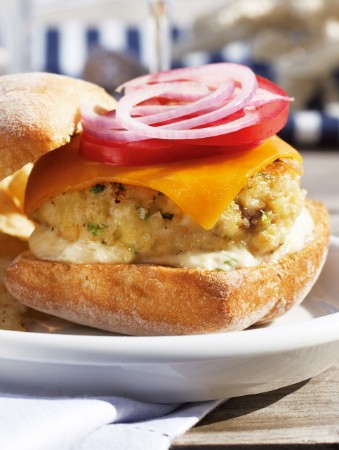 Fish Burger with Lemon Aïoli
Summer 2008
BY: Marilyn Bentz-Crowley
This grown-up fish sandwich is a hearty way to showcase fresh white fish. Although the aïoli below is not authentic, olive-oil mayonnaise (Hellmann's makes a good one) helps with a first-rate approximation. Serve with a heap of potato chips and a dill pickle for a retro meal with sophisticated flavours.
Aïoli
½ cup (125 mL) olive oil mayonnaise
1 to 2 large cloves garlic, minced
1 tbsp (15 mL) freshly squeezed lemon juice
½ tsp (2 mL) rasped or finely grated lemon zest
½ tsp (2 mL) Dijon mustard
Pinch or 2 chopped parsley

Burgers
1 lb (500 g) fresh skinless, boneless white fish such as tilapia (see Tip)
¼ tsp (1 mL) salt
⅛ tsp (0.5 mL) freshly ground black pepper
1 egg
1 green onion, thinly sliced
1½ cups (375 mL) fresh white breadcrumbs, divided
1 tbsp (15 mL) finely chopped fresh parsley
1 to 2 tbsp (15 to 25 mL) olive oil
1 to 2 tbsp (15 to 25 mL) butter
4 square slices (or equivalent) orange cheddar cheese, preferably medium or old
4 Italian or ciabatta buns
2 medium tomatoes, sliced
4 slices sweet onion such as Vidalia
1. To make aïoli, whisk mayonnaise with garlic, juice, zest and mustard. Add pinches of chopped parsley. Cover and refrigerate up to a day.

2. Pat fish dry with paper towels. Cut fish into large chunks; place in food processor. Add salt and pepper. Pulse until just chopped and resembling hamburger. Transfer to a mixing bowl; stir in egg, green onion and 1 cup (250 mL) bread crumbs. Form into 4 patties about ¾ inch (2 cm) thick. Stir remaining ½ cup (125 mL) crumbs with 1 tbsp (15 mL) parsley; spread on a plate. Coat patties on both sides with crumbs. (Patties can be covered and refrigerated for up to a half a day.)

3. When ready to serve, heat 1 tbsp (15 mL) each of olive oil and butter in a large frying pan over medium heat. Sauté patties for 8 to 10 minutes on each side or until deeply golden; add more oil and butter as needed. Top with cheese when flipped. Meanwhile, heat or toast buns. Place patties on bottom half of bun. Dollop fish with aïoli, add slices of tomato and onion, and perch top bun slightly off to side.

Tip: Tilapia is farmed in Ontario and has a mild flavour and good texture. However, other fish such as halibut or haddock are good, too. If using frozen fish, defrost and then use several paper towels to dry fish thoroughly before using.
SHARE