Fire-Roasted Peppers with Herbs
Summer 2016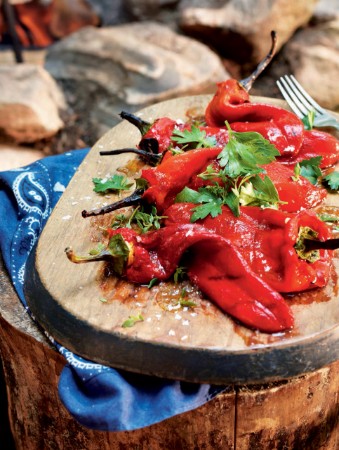 Fire-Roasted Peppers with Herbs
Summer 2016
BY: Christopher St. Onge
Luckily, camping season roughly coincides with the year's best produce, and sometimes all you need is a fire to make things taste good. Carmen peppers are the long, narrow variety of mild, sweet red pepper favoured for use in jarred roasted red peppers. Local Carmen, oralternatively Gypsy peppers, usually appear in markets around the beginning of August.
8 large red Carmen peppers
Extra virgin olive oil
Small handful of fresh herbs, such as parsley, oregano, thyme or rosemary, or a combination Maldon salt
1 tbsp (15 mL) or so red wine or sherry vinegar (optional)
1 Prepare coals to medium-hot. Place whole peppers on grill and cook, undisturbed until charred, 4 to 5 minutes. Turn and continue to cook, 2 to 3 minutes per side, or until charred all over.

2 Gently place in a large bowl or pot (it's ok to set one atop another) and cover for 10 minutes. Remove the peppers to a board and, working with one at a time, remove and discard skin, otherwise doing your best to leave peppers and stems intact.

3 Divide between 4 plates or serve together on a large board drizzled with olive oil to moisten, scattered with herbs and seasoned with salt to taste. If using, sprinkle vinegar evenly over peppers.
SHARE