Feta, Lemon & Dill Slather
Printemps 2009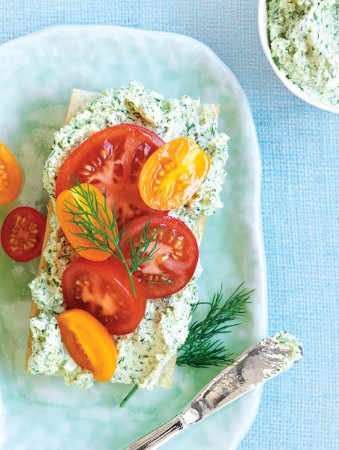 Feta, Lemon & Dill Slather
Printemps 2009
BY: Heather Trim
Tired of cream cheese spreads? Try this, using on-hand ingredients and fresh spring herbs.
8 oz (250 g) feta cheese, crumbled
3 tbsp (45 mL) olive oil
2 garlic cloves, minced
Finely grated peel of 1 lemon
1 tbsp (15 mL) lemon juice
Generous grinding black pepper
3 tbsp (45 mL) freshly chopped dill
2 tbsp (25 mL) snipped chives or 1 small green onion, thinly sliced
1. Place feta, oil, garlic, peel, juice and black pepper in a food processor. Whirl until it starts to blend together but still has texture. Stir in dill and chives until mixed. Serve with crackers, sliced baguette or use as a spread for sandwiches, wraps or burgers, or as a filling for large cherry tomatoes or scooped-out cucumber slices.
Makes 1 1⁄2 cups (375 mL)
SHARE