Farro & Vegetable Salad
Summer 2018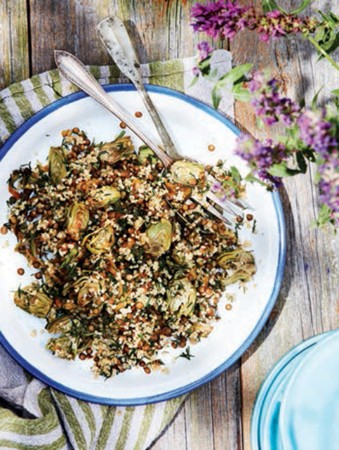 Farro & Vegetable Salad
Summer 2018
BY: Christopher St. Onge
Dress this salad while warm and let it sit for at least a few hours in the fridge for the flavours to come together. Bob's Red Mill produces an excellent farro but if farro isn't your thing, substitute it with 2½ cups (625 mL) cooked and drained pearl barley. This one keeps well in the fridge too and in fact continues to improve in flavour for a couple of days.
1 cup (250 mL) farro, rinsed
2 tbsp plus ¼ cup (30 mL plus 60 mL) olive oil, divided
3 cloves garlic, thinly sliced
¼ cup (60 mL) pine nuts
2 medium zucchini, cut into ¼ inch (5 mm) slices
1 small head cauliflower, about 1 lb (455 g), cut into bite-sized florets
Salt and freshly ground black pepper
4 oil-packed anchovy fillets, finely chopped
3 tbsp (45 mL) red wine vinegar
½ cup (125 mL) loosely packed chopped parsley
⅓ cup (80 mL) yellow raisins
1. Cook farro in plenty of boiling salted water (as you would pasta) for 25 to 30 minutes or until tender; drain and add to a large bowl. Set aside.

2. Heat 2 tbsp (30 mL) oil in a frying pan over medium heat. Add garlic and pine nuts; fry until garlic is light golden and nuts are toasted. Remove contents with a slotted spoon and add to bowl with farro. Return pan to high heat, add zucchini and cauliflower; season with salt and pepper. Cook, stirring frequently, for about 8 minutes or until deep golden in spots but still tender-crisp. Tip contents of pan over farro.

3. Whisk together anchovy fillets, red wine vinegar and remaining ¼ cup (60 mL) olive oil; pour over warm farro mixture. Add parsley and raisins; stir to combine. Season to taste with salt and pepper. Cover and refrigerate until chilled, about 3 hours (salad will keep for 5 days in fridge).
SHARE