Extra Cheesy French Onion Stew in Bun Bowls
Winter 2020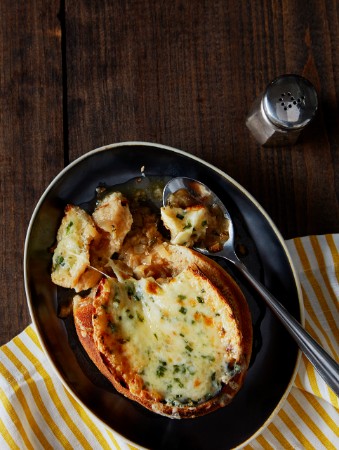 Extra Cheesy French Onion Stew in Bun Bowls
Winter 2020
BY: Signe Langford
Bubbling over with melted Gruyère and mozzarella, this extra-thick and smooth classic is even more comforting in its edible bowl. As you spoon up the rich, sherry-spiked broth, the bun will soften and collapse into a wonderful, silky bread soup. The typical Kaiser roll is the right size for a good serving; multi-grain is nice, and day-old is best.
6 to 8 buns; choose the sturdiest buns you can find
6 to 8 round slices of provolone, mozzarella or Swiss cheese; try to match the size of the cheese slices with the size of the buns as best you can; 1 pkg (150 g) sliced cheese is perfect
2 tbsp (30 mL) olive oil
¼ cup (60 mL) butter
6 regular cooking onions, thinly sliced, about 6 cups (1.5 L)
1 tsp (5 mL) sea salt
1 tsp (5 mL) black pepper, divided
2 tsp (10 mL) finely minced fresh thyme or ½ tsp (2 mL) dried
2 bay leaves
¾ cup (175 mL) medium to dry sherry, divided
8 cups (2 L) beef, chicken, mushroom or vegetable stock
2 cups (500 mL) plain bread crumbs, from the buns plus extra store-bought if needed
3 cups (750 mL) any combination of grated Gruyère, Swiss and mozzarella
¼ cup (60 mL) finely chopped fresh chives
1. Preheat oven to 350°F (180°C).
2. Slice the very tops off the buns and pull out most of the interior crumbs, creating a "bowl" with a wall about 1-inch (2.5-cm) thick. Save the crumbs and save the bowl lids.
3. Arrange bun bowls in an ovenproof dish or roasting pan. Lay 1 round of sliced cheese at the bottom of each bowl. Bake in oven for 5 to 10 minutes or until cheese slice has melted and bun is crispy and somewhat dried out; leave in pan and set aside.
4. Into a large, heavy-bottom soup pot or Dutch oven over low heat, add the oil, butter, onions, salt and ½ tsp (2 mL) of the pepper. Stirring often, slowly cook until caramelized, soft, and turning golden; about 25 minutes. Do not allow to burn or stick; if needed add a drop more oil or butter to prevent sticking.
5. Add the thyme, bay leaves and ½ cup (125 mL) of the sherry, and increase heat to medium; stir.
6. Add the stock—beef is traditional, but mushroom is just as rich, and any of the others will work—allow to come to a simmer; stirring occasionally. Taste for salt and add more to taste.   
7. Simmer for about 25 minutes, stirring occasionally; the liquid will reduce somewhat and the onions will continue to soften.
8. Add the crumbs to thicken the broth and continue to simmer for another 20 to 25 minutes or until crumbs are mostly disintegrated and soup has reduced some more; there should be between 6 to 8 cups (1.5 to 2 L) at this point.
9. In a bowl, combine the grated cheeses with chives and remaining pepper; set aside.
10. Preheat broiler on high.
11. Ladle the stew into each of the pre-baked, cheese-lined bun bowls, filling almost to the top. Don't forget to remove the bay leaves! Set the lids back on the buns upside down, creating a platform for the cheese. Pile high with the cheese and chive mixture and set under the broiler and watch closely; a heaping ¼ cup (60 mL) of cheese per bowl is good. Remove as soon as the cheese is bubbly and turning golden; about 3 to 5 minutes. Rotate the pan once or twice while broiling for even browning and melting.
12. Using a wide spatula, carefully transfer bun bowls onto soup plates or wide bowls and serve immediately!
Serves 6 to 8 depending on the size of the bun bowls; makes about 6 to 8 cups (1.5 to 2 L) of soup
SHARE