Elderflower-Apple Sparkler
Early Summer 2018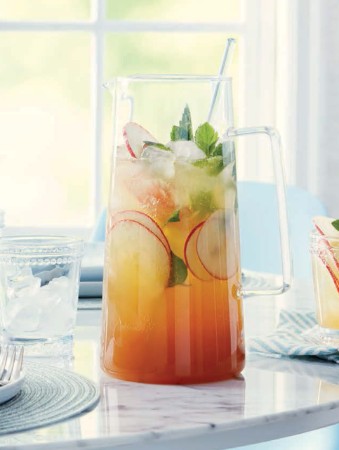 Elderflower-Apple Sparkler
Early Summer 2018
BY: Michelle Lucas Larving
No Mother's Day could be complete without a sparkling drink to celebrate the occasion, and the complementary flavours of elderflower, apple and mint make this sparkler extra special. It can be left non-alcoholic for the whole family to enjoy or can be hardened up with a shot of bourbon each.
½ cup (125 mL) elderflower cordial
3 mint sprigs
2 tbsp (30 mL) lemon juice
2 cups (500 mL) good-quality apple cider, chilled
1 small apple, thinly sliced crosswise into rounds
1 bottle (750 mL) Italian sparkling water, chilled
Bourbon, optional
1. To a pitcher, add elderflower cordial, mint and lemon juice. Muddle with a wooden spoon. Add apple cider and apple slices. Stir to mix. Before serving, add sparkling water. Pour into cups with ice, distributing fruit. Add a shot of bourbon, if desired.
SHARE