Dirty Martini Cube
Summer 2014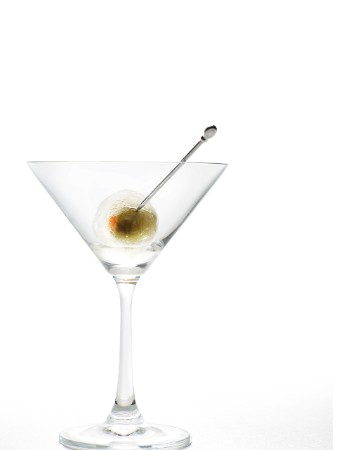 Dirty Martini Cube
Summer 2014
BY: Kristen Eppich
Briny olive water is added to the purified water to make this a salty, savoury cube. The olive is locked inside, to be enjoyed once the cube has melted. A frozen lemon twist can also be added to this cube.
14 large Martini olives or 28 small olives
1½ cups (375 mL) purified water
½ cup (125 mL) olive brine
14 toothpicks
1 Skewer 1 large or 2 small olives onto each toothpick. Place into ice cube tray.

2 Combine 1½ cups (375 mL) purified water with olive brine in a medium pot and bring to a boil. Pour into tray, filling up halfway and reserving the rest. Freeze until frozen through. Top with remaining olive water and refreeze until solid.
Serve with a Vodka Martini (on the rocks)
SHARE